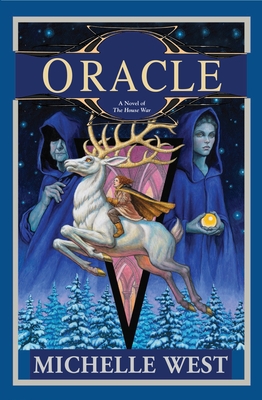 Oracle (House War #6) (Mass Market)
DAW, 9780756410100, 784pp.
Publication Date: May 3, 2016
Other Editions of This Title:
Hardcover (5/5/2015)
MP3 CD (5/24/2016)
* Individual store prices may vary.
Description
In this epic fantasy series for fans of George R. R. Martin and Robin Hobb, Jewel Markess must contend with deadly court politics, and visions of looming magical threats.

Beneath the streets of Averalaan, capital city of the Essalieyan Empire, lie the three Princes of the firstborn, doomed to sleep until the end of days. When gods walked the world, they feared the Sleepers—and the Sleepers are waking.

House Terafin has already felt the consequences of their stirring.

To save the city and the House over which she rules, Jewel Markess ATerafin must face the Oracle. She leaves a divided House and a city haunted by demons in human guise. At no time in Terafin's history has it faced the dangers it now faces, and it will face them bereft of its leader.

But the path of the Oracle was old when the gods ceased to walk the world. Ancient creatures stalk winter skies at the behest of the demons, who mean to ensure that she will never reach the Oracle's side.

Secrets, long hidden from all but the first­born, will finally be brought to light. Choices will be made, and paths chosen, from which there will be no return....
About the Author
Michelle West is the author of three interconnected series: The Sacred Hunt duology, the six-volume Sun Sword series, and The House War novels. She has published numerous short stories and fantasy novels under her maiden name, Michelle Sagara. She was a two-time nominee for the Campbell Award. She works part-time at BAKKA Books, one of Toronto's larger bookstores, and writes a column for The Magazine of Fantasy & Science Fiction. She can be contacted via her website, michellesagara.com or on Twitter at @msagara.
Praise For Oracle (House War #6)…
Praise for The House War Series:

"The magic feels truly magical." —Publishers Weekly
 
"Richly and superbly detailed. Her characters live and sing." —Examiner 

"This story will go down as one of the best novels in its genre, propelling West into the ranks of Robin Hobb and George R.R. Martin." —The Maine Edge 
 
"Some say Michelle West has been propelled into the ranks of George R. R. Martin and Robin Hobb—I say that she's been there all along and it's about time she was noticed as such." —Night Owl Reviews
 
"If you're new to this kind of writing and have read George R.R. Martin's series and enjoyed it, I highly recommend these books.  If you've read neither—what are waiting for?!" —Chaotic Compendiums

"A worthy addition to the fantasy canon, both for its unusual nature, and its deep meanderings into the human psyche on the subjects of pain, loss, and hope in adversity." —Grasping for the Wind 

"In a richly woven world, and with a cast of characters that ranges from traumatized street kids to the wealthy heads of the most prominent houses in Averalaan, West pulls no punches as she hooks readers in with her bold and descriptive narrative." —Quill & Quire

"The power and majesty of the series is in the characters, although the world itself is extraordinary.... The House War series is timeless and clearly takes its place at the top of its genre. It is a full-bodied piece of work that is satisfying, intriguing and thought-provoking." —Bitten by Books