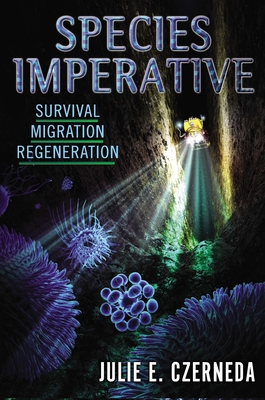 Species Imperative (Paperback)
DAW, 9780756410148, 1024pp.
Publication Date: September 2, 2014
* Individual store prices may vary.
Description
A threat to entire worlds. Where on that scale does one woman fall?

Dr. Mackenzie "Mac" Connor's goal in life is to be left in peace to study her salmon and their migration. She has no interest in the Interspecies Union, space travel, or the mysterious Chasm, an expanse of dead worlds filled with the ruins of alien civilizations. The only cloud on Mac's horizon is having to meet with the Oversight Committee to defend any research intrusions into the protected zones on shore.

But what Mac wants no longer matters. There's another, darker, migration underway, this time across space. What created the Chasm has awakened once more, to follow its imperative to feed on living worlds. How can it be stopped?

Aliens have asked Mac to find that answer. She knows it may mean sacrificing all she loves, including Earth itself. She's determined to find another way.

But, first, she must survive.

The Chasm of the past was only a trial run, for this species intent on replacing all life with its own. And they've learned her name.
About the Author
Julie E. Czerneda is a biologist and writer whose science fiction has received international acclaim, awards, and best-selling status. She is the author of the popular "Species Imperative" trilogy, the "Web Shifters" series, the "Trade Pact Universe" trilogy and her new "Stratification" novels. She was a finalist for the John W. Campbell Award for Best New Writer. Her stand-alone novel, In the Company of Others, won Canada's Prix Aurora Award and was a finalist for the Philip K. Dick Award for Distinguished SF. Julie lives with her husband and two children in the lake country of central Ontario, under skies so clear they could take seeing the Milky Way for granted, but never do. You can find her at www.czerneda.com.
Praise For Species Imperative…
"Julie Czerneda has a sixth-degree black belt in advanced biology, and uses it to amazing effect. Her aliens feel truly and delightfully different. I mean, how can you not love a species who demonstrates their emotional state by the color of their mucus?" —Jim C. Hines, author of Libriomancer (for Species Imperative)

"This novel bears the hallmarks of Czerneda's earlier books: strong, complex, and appealing characters and a thoughtful, intricate plot.... Czerneda is a masterful storyteller and one of the best of the recent voices in science fiction." —VOYA (for Survival)

"There are some elements of hard science fiction here, with interplanetary travel and alien threats, but the focus on biology rather than technology is a refreshing and original approach." —RT Book Reviews (for Survival)

"With Survival, Czerneda has begun the Species Imperative series with a very big bang and an engrossing prelude.... Just what readers have come to expect from this gifted and insightful author." —SF Site (for Survival)

"Czerneda's characterizations, both human and alien, are as intricate and entertaining as the twisty plot. Fans of SF adventure and intrigue—and of C.J. Cherryh's masterfully drawn alien cultures, in particular—are in for a treat." —Publishers Weekly (for Migration)

"Fascinating characters, including some delightfully wacky aliens, mixed with thrilling action make this an exciting read." —Locus (for Migration)

"A creative voice with a distinctive vision. A writer to watch." —CJ Cherryh, Hugo Award-winning author of Downbelow Station