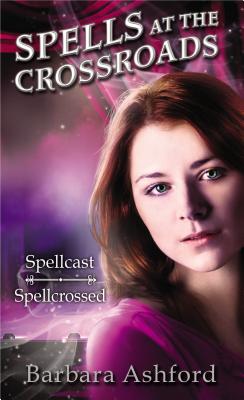 Spells at the Crossroads (Mass Market)
DAW, 9780756410216, 848pp.
Publication Date: September 2, 2014
* Individual store prices may vary.
Description
Maggie Graham was having a very bad summer. First, she lost her job. Then the bathroom ceiling in her Brooklyn apartment collapsed. That was when Maggie decided it was time to run away from home for awhile. On the road to Vermont for her weekend away, she impulsively took the exit for a town called Dale. For some reason, the area felt familiar, especially the big white barn she passed on the way to town.

What came next was the biggest adventure in Maggie's life. Her experience as an actor landed her a job in the summer stock company of the Crossroads Theatre, housed in that same white barn, but none of her professional credits could prepare her for the magic that happened on this stage. Or for the theatre's unorthodox staff, especially its moody and mysterious director.

That staff and stage will soon become family to Maggie, but all the magic in the world might not be enough to keep them safe—with threats ranging from interfering board presidents to imprisonment in the realm of Faerie....
About the Author
Barbara Ashford grew up in Wilmington, Delaware and began her theatrical debut at an early age. After performing all over in converted playhouses from barns to churches to used car showrooms, she gave up performance to write musical theatre. Eventually she returned to fiction, using her theatre background to create the novel that became Spellcast. Barbara Ashford can be found at barbara-ashford.com.
Praise For Spells at the Crossroads…
"It's warm, humorous, emotional, heartfelt, and full of magic." 
—Carrie Vaughn,
NYT
bestselling author
"An understated and quiet novel about the transformative power of the theater. Unassuming in its fantastical elements, this is about a woman with an unsettled past affecting her present and the intersecting coincidences that move her toward the future. Maggie is relatable and her journey compelling." —RT Reviews

"Beautiful characterization, graceful storytelling, secrets galore, an achingly tender love story, and yes, magic. Plenty of magic! There's plenty to love about this wonderful, unusual book.... Spellcast is as close to perfect as it gets for me." —My Bookish Ways
"A charming fantasy novel....A slightly bittersweet but appropriate conclusion left me wanting more, in fine theatrical tradition." —Locus

"A charming emotional read that tugged at my heartstrings.... The deft mix of magic and pragmatic interpersonal problems create a mesmerizing read." —Night Owl Reviews
"Spellcrossed is contemporary fantasy, but the contemporary parts ground the fantasy. Magic and the otherworldly are present, but everyday human connections are the real glue of the story." —Specific Romantic