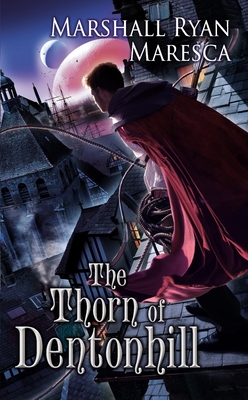 The Thorn of Dentonhill (Maradaine Novels #1) (Mass Market)
DAW, 9780756410261, 400pp.
Publication Date: February 3, 2015
* Individual store prices may vary.
Description
Blending vigilante justice with epic fantasy, student mage Veranix Calbert fights crime in the city of Maradaine in this fast-paced debut novel • "Veranix is Batman, if Batman were a teenager and magically talented." —Library Journal

Veranix Calbert leads a double life. By day, he's a struggling magic student at the University of Maradaine. At night, he spoils the drug trade of Willem Fenmere, crime boss of Dentonhill and murderer of Veranix's father. He's determined to shut Fenmere down.
 
With that goal in mind, Veranix disrupts the delivery of two magical artifacts meant for Fenmere's clients, the mages of the Blue Hand Circle.  Using these power-filled objects in his fight, he quickly becomes a real thorn in Fenmere's side.
 
So much so that soon not only Fenmere, but powerful mages, assassins, and street gangs all want a piece of "The Thorn." And with professors and prefects on the verge of discovering his secrets, Veranix's double life might just fall apart. Unless, of course, Fenmere puts an end to it first.

Explore the back alleys of the city in this street-level fantasy adventure, the first novel of the Maradaine series. Then see Maradaine from a new perspective, with Maresca's second, concurrent series set in the same city: A Murder of Mages begins the Maradaine Constabulary novels, featuring an unlikely partnership of two detectives in the city's constabulary.
About the Author
Marshall Ryan Maresca grew up in upstate New York and studied film and video production at Penn State.  He now lives Austin with his wife and son.  His work appeared in Norton Anthology of Hint Fiction and Rick Klaw's anthology Rayguns Over Texas. He also has had several short plays produced and has worked as a stage actor, a theatrical director and an amateur chef. His novels The Thorn of Dentonhill and A Murder of Mages each begin their own fantasy series, both set in the port city of Maradaine. For more information, visit Marshall's website at www.mrmaresca.com.
Praise For The Thorn of Dentonhill (Maradaine Novels #1)…
Praise for the Maradaine universe:

"Maresca's debut is smart, fast, and engaging fantasy crime in the mold of Brent Weeks and Harry Harrison. Just perfect." —Kat Richardson, national bestselling author of Revenant

"Veranix is Batman, if Batman were a teenager and magically talented.... Action, adventure, and magic in a school setting will appeal to those who love Harry Potter and Patrick Rothfuss' The Name of the Wind." ―Library Journal (starred) 

"Marshall Ryan Maresca is some kind of mad genius…. Not since Terry Pratchett's Ankh Morpork have we enjoyed exploring every angle of an invented locale quite this much." —B&N Sci-fi & Fantasy Blog

"A well-conceived and well-written melange of popular fantasy sub-genres: there's a university with a magic department, there is some vigilante derring-do and thievery.... If you're looking for an action-and-adventure-filled new fantasy series, then The Thorn of Dentonhill will suit very well." —Civilian Reader 

"The Thorn of Dentonhill is a light-hearted, fun read, and Maresca has introduced a hero with plenty of room to grow, a couple of villains who will provide plenty of conflict in upcoming books. And, most importantly, he's created a character that I care enough about to continue reading." —Relentless Reading

"Take the caped avenger of Batman, the teenage-superhero angst of Spiderman, the street-gang bravado of West Side Story, and toss in the magic of Harry Potter, and what have you got? Marshall Ryan Maresca's The Thorn of Dentonhill." —Kings River Life Magazine

"Maresca brings the whole package, complete and well-constructed. If you're looking for something fun and adventurous for your next fantasy read, look no further than The Thorn of Dentonhill, an incredible start to a new series, from an author who is clearly on his way to great things." —Bibliosanctum 

"The Thorn of Dentonhill was a fast-paced read with action from start to finish. I loved every minute of it." —Short and Sweet Reviews

"Definitely a fun read, and one classic fantasy fans will likely enjoy." —Bibliotropic

"So much of it is terribly exciting and fun.... What I really liked about the ending was how it set up relationships and possibilities for the next book (which I definitely plan on reading)." —Tenacious Reader