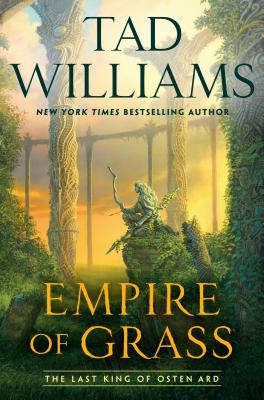 Empire of Grass (Last King of Osten Ard #2)
Hardcover

* Individual store prices may vary.
Other Editions of This Title:
Digital Audiobook (7/1/2019)
Paperback (5/12/2020)
Mass Market (6/1/2021)
Description
Set in Williams' New York Times bestselling fantasy world, the second book of The Last King of Osten Ard returns to the trials of King Simon and Queen Miriamele as threats to their kingdom loom...

The kingdoms of Osten Ard have been at peace for decades, but now, the threat of a new war grows to nightmarish proportions.

Simon and Miriamele, royal husband and wife, face danger from every side. Their allies in Hernystir have made a pact with the dreadful Queen of the Norns to allow her armies to cross into mortal lands. The ancient, powerful nation of Nabban is on the verge of bloody civil war, and the fierce nomads of the Thrithings grasslands have begun to mobilize, united by superstitious fervor and their age-old hatred of the city-dwellers. But as the countries and peoples of the High Ward bicker among themselves, battle, bloodshed, and dark magics threaten to pull civilizations to pieces. And over it all looms the mystery of the Witchwood Crown, the deadly puzzle that Simon, Miriamele, and their allies must solve if they wish to survive.

But as the kingdoms of Osten Ard are torn apart by fear and greed, a few individuals will fight for their own lives and destinies—not yet aware that the survival of everything depends on them.
Praise For Empire of Grass (Last King of Osten Ard #2)…
"Inspired me to write my own seven-book trilogy.... It's one of my favorite fantasy series." —George R. R. Martin, New York Times-bestselling author of A Song of Ice and Fire
 
"Groundbreaking.... Changed how people thought of the genre, and paved the way for so much modern fantasy. Including mine." —Patrick Rothfuss, New York Times-bestselling author of The Name of the Wind
 
"Tad Williams is a master storyteller, and the Osten Ard books are his masterpiece. Williams' return to Osten Ard is every bit as compelling, deep, and fully-rendered as the first trilogy, and he continues to write with the experience and polish of an author at the top of his game." —Brandon Sanderson, New York Times-bestselling author of Mistborn

"Memory, Sorrow, and Thorn is one of the great fantasy epics of all time."
—Christopher Paolini, New York Times bestselling author of Eragon
 
"Building upon the revered history of Memory, Sorrow, and Thorn, Williams has outdone himself by penning a 700-plus page novel that is virtually un-put-down-able.... Williams' grand-scale storytelling mastery is on full display here. Not just utterly readable—an instant fantasy classic." —Kirkus Reviews (starred)

"With [Empire of Grass], The Last King of Osten Ard has achieved the greatest possible feat for a sequel: that is, I can no longer imagine the originals without it." —Tor.com

"Readers who delight in losing themselves in long complex tales of epic fantasy will be in their element here, and there is the promise of much more to come in future volumes." —Locus
 
"Panoramic, vigorous, often moving.... Williams adroitly weaves together the tales...heralding a suitably epic and glorious conclusion." —Publishers Weekly
 
"Highly Recommended. [Williams] draws on many mythologies for the background of his fantasy epic...story spiced with political intrigue and strong appealing heroes." —Library Journal
 
"A grand fantasy on a scale approaching Tolkien's The Lord of the Rings." —Cincinnati Post
DAW, 9780756410629, 688pp.
Publication Date: May 7, 2019
About the Author
Tad Williams is a California-based fantasy superstar. His genre-creating (and genre-busting) books have sold tens of millions worldwide. His works include the worlds of Otherland, Shadowmarch, and Osten Ard—including the Memory, Sorrow, and Thorn, and The Last King of Osten Ard series—as well as standalone novels Tailchaser's Song and The War of the Flowers. His considerable output of epic fantasy, science fiction, urban fantasy, comics, and more have strongly influenced a generation of writers. Tad and his family live in the Santa Cruz mountains in a suitably strange and beautiful house. 
or
Not Currently Available for Direct Purchase