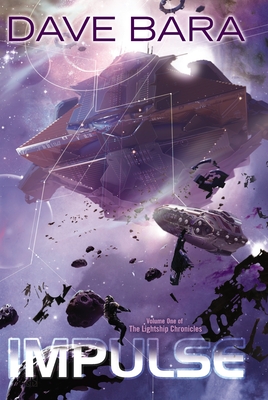 Impulse (Lightship Chronicles #1) (Mass Market)
DAW, 9780756410667, 384pp.
Publication Date: December 1, 2015
Other Editions of This Title:
Digital Audiobook (2/2/2015)
Hardcover (2/3/2015)
* Individual store prices may vary.
Description
With his critically acclaimed military science fiction debut series, Dave Bara launched readers on a star-spanning journey of discovery, diplomacy, and danger. 

Lieutenant Peter Cochrane of the Quantar Royal Navy believes he has his future clearly mapped out. It begins with his new assignment as an officer on Her Majesty's Spaceship Starbound, a Lightship bound for deep space voyages of exploration.

But everything changes when Peter is summoned to the office of his father, Grand Admiral Nathan Cochrane, and given devastating news: the death of a loved one. In a distant solar system, a mysterious and unprovoked attack upon Lightship Impulse resulted in the deaths of Peter's former girlfriend and many of her shipmates.

Now Peter's plans are torn asunder as he is transferred to a Unified Space Navy ship under foreign command, en route to an unexpected destination, and surrounded almost entirely by strangers. To top it off, his superiors have given him secret orders that might force him to become a mutineer.

The crisis at hand becomes a gateway to something much more when the ship's Historian leads Peter and his shipmates into a galaxy of the unknown -- of ancient technologies, age-old rivalries, new cultures, and unexpected romance. It's an overwhelming responsibility for Peter, and one false step could plunge humanity into an apocalyptic interstellar war….
About the Author
Dave Bara was born at the dawn of the space age and grew up watching the Gemini and Apollo space programs on television, dreaming of becoming an astronaut one day. This soon led him to an interest in science fiction on TV, in films, and in books. Dave's writing is influenced by the many classic SF novels he has read over the years from SF authors such as Isaac Asimov, Arthur C. Clarke, and Frank Herbert, among many others.
Praise For Impulse (Lightship Chronicles #1)…
Praise for the Lightship Chronicles:

"If you liked Star Trek Into Darkness, you'll like Dave Bara's Impulse." —Jack Campbell, New York Times bestselling author of the Lost Fleet series

"This guy is the next Jack Campbell; it's that good." —T. C. McCarthy, author of the Subterrene War series

"In Starbound, Bara manages to ramp up the depth and complexity of his world while retaining that sense of excitement, suspense, and adventure." —Barnes & Noble Sci Fi & Fantasy Blog

"This energetic mélange of tried-and-true elements—futuristic jargon, military and romantic tactics, and multiple levels of skullduggery—easily grabs the reader's attention; more impressive is that Bara's story holds that attention all the way to the end." —Publishers Weekly

"The crew themselves prove to be wonderfully diverse.... There's always a human quirk to their dialogue that makes them feel far more alive. Impulse shows what J. J. Abrams could have done with [Star Trek] Into Darkness." —Starburst Magazine

"Impulse is an exciting space opera that fans of Star Trek will enjoy…. With plenty of suspense, drama, unique technology, and romance — this sci-fi adventure has it all. I thoroughly enjoyed this romp through deep space from relatable characters to the clever plot." —SciFiChick

"A fun and engaging story. The protagonist comes across as relatable and believable....  Impulse is a winner for me." —SFF World

"Totally convincing space navy—check! Perfectly realized characters complete with depth and heroism—check! Plus, a fascinating story with an Ahab of a captain determined to complete his mission, and a fledgling lieutenant who comes into his own in the midst of interstellar conflict. Oh yeah: exploding spaceships—double check!" —Tony Daniel, national bestselling author of Guardian of Night

"Impulse is fun, fast, and proper science fiction, where the stakes are big and things matter because the characters matter. I enjoyed the hell out of this. Impulse should be an impulse buy." —Simon R. Green, bestselling author of the Deathstalker series