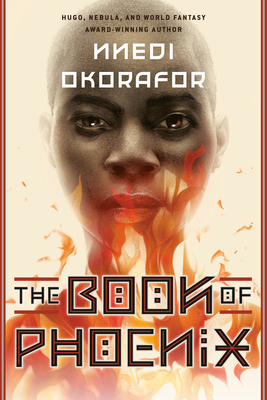 The Book of Phoenix
Paperback

* Individual store prices may vary.
Other Editions of This Title:
Mass Market (5/2/2017)
MP3 CD (8/9/2016)
Hardcover (5/5/2015)
Description
A fiery spirit dances from the pages of the Great Book. She brings the aroma of scorched sand and ozone. She has a story to tell....

The Book of Phoenix is a unique work of magical futurism. A prequel to the highly acclaimed, World Fantasy Award-winning novel, Who Fears Death, it features the rise of another of Nnedi Okorafor's powerful, memorable, superhuman women.

Phoenix was grown and raised among other genetic experiments in New York's Tower 7. She is an "accelerated woman"—only two years old but with the body and mind of an adult, Phoenix's abilities far exceed those of a normal human. Still innocent and inexperienced in the ways of the world, she is content living in her room speed reading e-books, running on her treadmill, and basking in the love of Saeed, another biologically altered human of Tower 7.

Then one evening, Saeed witnesses something so terrible that he takes his own life. Devastated by his death and Tower 7's refusal to answer her questions, Phoenix finally begins to realize that her home is really her prison, and she becomes desperate to escape.

But Phoenix's escape, and her destruction of Tower 7, is just the beginning of her story. Before her story ends, Phoenix will travel from the United States to Africa and back, changing the entire course of humanity's future.
Praise For The Book of Phoenix…
"Okorafor triumphs over the perils of the prequel by making the inevitable feel newly dreadful. Blending poetic passages with sharp observation and the occasional cadence of a story told by firelight, The Book of Phoenix is an assured introduction not just to her world's myths, but to the process of mythmaking." —The New York Times

"A gripping examination of the power of myth and of who is allowed to write and preserve history.... Okorafor's fantastical The Book of Phoenix has that ring of truth, a superlative adventure that addresses all-too-harsh realities." —The San Francisco Chronicle

"Okorafor's inventiveness is as stunning as ever, and the ending is nothing short of spectacular." —The Chicago Tribune

"Phoenix and her story exist in that shimmering space that marks where science fiction and magical realism overlap.... The Book of Phoenix hit all of my emotional checkboxes."—BookRiot

"The Book of Phoenix isn't just well written, and it isn't just smart as hell; it's also a damn good story, and it kept me reading almost nonstop all the way through."—Tor.com

"The book is grounded by its unflinching exposure of the brutalities of colonialism, racism, and greed, and exalted by the beauty of Okorafor's prose." —Library Journal (starred review)

"This is a story of vengeance, a fantastic epic battle between good and evil; written as a fable for the future." —Barnes & Noble Sci-Fi & Fantasy Blog

"While the grim logic of the plot makes it very clear early on how the plot must play out, the process is as entrancing as watching an avalanche sweep toward you, and Okorafor's prose is as ever, enthralling."—RT Reviews


DAW, 9780756410780, 240pp.
Publication Date: May 3, 2016
About the Author
Nnedi Okorafor was born in the United States to two Igbo (Nigerian) immigrant parents. She holds a PhD in English and is a professor of creative writing at Chicago State University. She has been the winner of many awards for her short stories and young adult books, and won a World Fantasy Award for Who Fears Death. Nnedi's books are inspired by her Nigerian heritage and her many trips to Africa. She lives in Chicago with her daughter Anyaugo and family. She can be contacted via her website, www.nnedi.com or on Twitter at twitter.com/nnedi.
Coverage from NPR