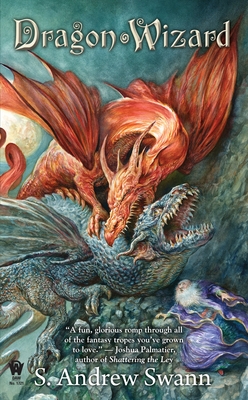 Dragon Wizard (Mass Market Paperbound)
Daw Books, 9780756411244, 336pp.
Publication Date: March 1, 2016
Description
It has been a year since former thief Frank Blackthorne became Princess of Lendowyn and married a dragon. He's coming to terms with his new life, but during the royal anniversary banquet, an elven prince reads a scroll of evil magic and Frank's world is turned upside-down. Again.
The scroll's spell causes a murderous rampage in a palace full of noble dignitaries, so it's no surprise Frank's visitors are angry. The Elf-King Timoras threatens war but Frank can't do anything about it: because of the same bit of scroll magic, the ex-Dragon Lucille has taken over the princess's body, unaware that Frank is still there, locked in her skull. And worst of all, the fate of everyone may soon rest on the shoulders of the man responsible for the whole mess, someone who should be safely dead...
About the Author
S. Andrew Swann lives in the Greater Cleveland area. He has a background in mechanical engineering. He has published twenty-three novels over the past eighteen years, which include science fiction, fantasy, and horror. His latest series is his epic space opera, the "Apotheosis" trilogy. He can be found at sandrewswann.com.
Advertisement