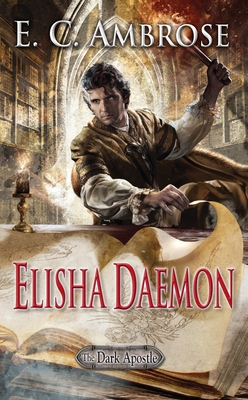 Elisha Daemon (The Dark Apostle #5)
Mass Market

* Individual store prices may vary.
Description
In this fifth and final installment of The Dark Apostle, barber-surgeon-turned-sorcerer Elisha must save plague-stricken England from its path of destruction--or risk succumbing to the very dark magic he is trying to eradicate.

Elisha was once a lowly barber-surgeon from the poorest streets of 14th-century London; now, he may be the most powerful magus alive. He faces the necromancers, a shadowy cult of magi who draw their power from fear and murder--and who have just unleashed the greatest plague the world has ever known upon a continent already destabilized by wars, assassinations, and religious conflict.

Empires and armies are helpless with no clear enemy to fight. The Church loses its hold upon the faithful as prayers go unanswered. Europe has become a bottomless well of terror and death, from which the necromancers drink deep as the citizens sink into despair. Elisha knows that if there is to be any chance of survival, he must root out the truth of the pestilence at its unexpected source: the great medical school at Salerno. There, Elisha might uncover the knowledge to heal his world.

But as he does, his former mentor, the beautiful witch Brigit, lays her own plans. For there may be one thing upon the face of the planet deadlier than the plague: the unfiltered power of Death within Elisha himself.
Praise For Elisha Daemon (The Dark Apostle #5)…
Praise for The Dark Apostle series:

"Ambrose's fantasy debut depicts a 14th-century England in which magic and fledgling science exist side by side.... This beautifully told, painfully elegant story should appeal to fans of LE Modesitt's realistic fantasies as well as of the period fantasy of Guy Gavriel Kay." —Library Journal (starred review)

"A vivid, violent, and marvelously detailed historical fantasy set in the perilous world that is medieval England in the middle of a war. Elisha Barber wades through blood and battle in his pursuit of arcane knowledge—forbidden love—and dangerous magic." —Sharon Shinn, author of Troubled Waters
 
"In a grim world of medieval warfare, witch-hunts, and primitive surgery, EC Ambrose has crafted a shining tale of one man's humanity and courage. A gritty read for those who like realism as well as hope in their fantasy." —Glenda Larke, author of The Last Stormlord 

"Elisha Barber is, at its heart, a story of resilience, of why we strive to be better, even when that journey seems pointless. As the start of a new series, the book sets a half-dozen plates spinning, and not a one wobbles for a second." —San Francisco Book Review

"EC Ambrose has created an exciting, adventure-filled world that draws you in; you are able to picture not only the characters but the world they live in. Elisha Magus is fantasy at its best, and I can't wait for the next book." —Fresh Fiction

"I am really enjoying this series. After reading the first book, I was eager to read [Elisha Magus]. It did not disappoint." —Night Owl Reviews

"The historical milieu is detailed and brings the period into sharp focus.... The magical battles rivet readers' attention as Elisha fights for his life and sanity. Book three looms in the wings as Elisha learns to wield his powers and protect his chosen king." —SFRevu
DAW, 9780756411343, 368pp.
Publication Date: February 6, 2018
About the Author
E. C. Ambrose is a fantasy author, history buff, and accidental scholar.
or
Not Currently Available for Direct Purchase