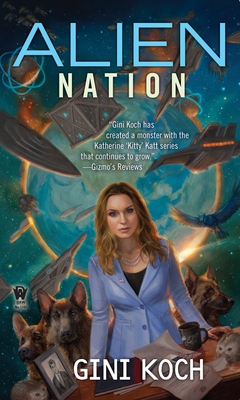 Alien Nation (Alien Novels #14)
Mass Market

* Individual store prices may vary.
Description
Sci-fi action meets steamy paranormal romance in the Alien novels, as Katherine "Kitty" Katt faces off against aliens, conspiracies, and deadly secrets. • "Futuristic high-jinks and gripping adventure." —RT Reviews

It's a typical day of bureaucracy and stress for President and First Lady Jeff and Kitty Katt-Martini, made more stressful when alien spacecraft are spotted making a beeline for Earth, none of them from the Alpha Centauri system. 

Then a cryptic request from an old adversary pulls Kitty out of the White House and into an explosion—and an even more explosive situation. Not only is the Mastermind back in the game, influencing the Club 51 True Believers to find and destroy all Centaurion bases, but he's also found a dangerous benefactor and created some frightening new cloning abilities.

And, just to make things a little more challenging, those alien spacecraft are coming to ask Kitty for protection, and asylum on Earth. Police stations being blown up and war helicopters in play aren't enoughto keep Kitty down, especially when she's got some new alien friends helping out.

But what these aliens share will rock the world—the other aliens on their way to Earth are fleeing an enemy so terrifying that even a Z'porrah ship is trying to get to Earth for safety and protection. And if Earth isn't able to stop this threat, there may not be anything left of humanity. 

Now Kitty and Company have to figure out where the Mastermind is and stop him, before any new aliens land. And then they have to save the world from a deadly invasion. Or, as Kitty calls it, Thursday.
Praise For Alien Nation (Alien Novels #14)…
Praise for the Alien series:

"Gini Koch's Alien books remind us why we read: it's fun!" —Kirkus 

"A series that shows no signs of slowing down." —Publishers Weekly

"Aliens, danger, and romance make this a fast-paced, wittily written sf romantic comedy." —Library Journal

"For those craving futuristic high-jinks and gripping adventure, Koch is an absolute master!" —RT Reviews

"This delightful romp has many interesting twists and turns as it glances at racism, politics, and religion en route. It will have fanciers of cinematic sf parodies referencing Men in Black, Ghost Busters, and X-Men." —Booklist 

"Campy, hyperactive, implausibly entertaining, there's a lot of fun here, and more fun to come in future installments."—SF Site

"Gini Koch has created a monster with the Katherine 'Kitty' Katt series that continues to grow." —Gizmo's Reviews

"Twelve books into the Katherine 'Kitty' Katt series and Gini Koch is still able to deliver a fast-paced, action-packed thrill ride that stays true to what faithful readers love about the series but still manages to throw in some unexpected twists and turns." —Under the Covers 
DAW, 9780756411435, 560pp.
Publication Date: December 6, 2016
About the Author
Gini Koch writes the fast, fresh and funny Alien/Katherine "Kitty" Katt series for DAW Books, the Necropolis Enforcement Files, and the Martian Alliance Chronicles. She also has a humor collection, Random Musings from the Funny Girl. As G.J. Koch she writes the Alexander Outland series and she's made the most of multiple personality disorder by writing under a variety of other pen names as well, including Anita Ensal, Jemma Chase, A.E. Stanton, and J.C. Koch. She has stories featured in a variety of excellent anthologies, available now and upcoming, writing as Gini Koch, Anita Ensal, Jemma Chase, and J.C. Koch. Reach her via: www.ginikoch.com
or
Not Currently Available for Direct Purchase