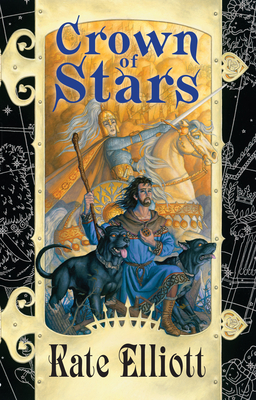 Crown of Stars
Paperback

* Individual store prices may vary.
Other Editions of This Title:
Mass Market Paperbound (1/2/2007)
Description
Set in an alternate Europe where bloody conflicts rage, the final book of the Crown of Stars epic fantasy series concludes the world-shaking conflict for the survival of humanity

In the wake of the cataclysm that has reshaped the very lands, Sanglant is struggling to legitimize his own rulership and Liath's status as his wife and consort, even as others are leaguing against him….

The Aoi are carrying out random attacks on the humans and implicating Sanglant as their leader….
While Liath, searching for forbidden magics, is unexpectedly beset by enemies she may not be able to withstand….

Stronghand is on a march of conquest that will inevitably lead into the heart of Sanglant's realm….

Adelheid has made an unholy alliance with the treacherous Antonia, who, with the deadly galla at her command, is prepared to strike at Liath, Sanglant, or anyone who threatens her plans….

Sabella and Duke Conrad have also marshaled their forces and are moving to seize the crown from Sanglant….

And Alain must take his own stand against the Lady of Battles if he is to have any hope of redeeming this war- and magic-torn world….
Praise For Crown of Stars…
Praise for the Crown of Stars series:

"In the Jaran series, Elliott proved herself good at setting up conflict on a grand scale…. Here she creates a complex fantasy world with intriguing parallels to European history, colorful characters, and plenty of action and magic." —Locus
 
"The saga's world is extremely well built, its pacing is brisk enough to keep the pages fluttering…. This certainly could become one of the best multivolume fantasies—fans, take note!" —Booklist

"Elliott has a gift for creating grim, dark settings as well as swashbuckling action scenes (both magical and material) worthy of Rafael Sabatini. This is a splendid piece of intelligent entertainment." —Publishers Weekly

"A solidly engrossing addition to a worthwhile series." —Kirkus

"Kate Elliott, an excellent fantasist, writes lush and lyrical scenes and uses her characters to scale down cosmic events to a human scale." —Midwest Book Review

"Ms. Elliott continues to weave an elegantly intricate tapestry of full-bodied characters who will fascinate and intrigue readers up to the very last page."—Romantic Times Magazine (now RT Reviews)

"Strong plotting, thorough world building and sound characterization and character development make this novel a must-purchase for those collections that have invested in the rest of the series."—VOYA

"Elliott has created a world with depth and color and peopled it with a large cast of characters, all poised on the brink of a cataclysmic conclusion."—SF Chronicle

"This is a very good climax to a very long series…. The writing is clear and excellent, the universe is interesting, the politics and warfare believable."—SFRevu

"Elliott has developed as real a fantasy realm as any writer working in the genre, and the very complexity of the story contributes to its verisimilitude."—Chronicle
DAW, 9780756411930, 624pp.
Publication Date: November 24, 2015
About the Author
Kate Elliott's credits include the Nebula finalist novel, King's Dragon, its sequels, Prince of Dogs, The Burning Stone, Child of Flame, and The Gathering Storm; her groundbreaking DAW science fiction series, The Novels of Jaran—Jaran, An Earthly Crown, His Conquering Sword, and The Law of Becoming; and her magnificent fantasy collaboration with Melanie Rawn and Jennifer Roberson, The Golden Key. She now lives in Hawaii with her husband, three children, and a dog. She can be found at kateelliott.com.
or
Not Currently Available for Direct Purchase