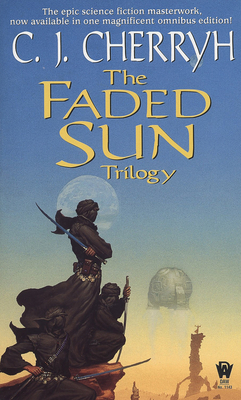 The Faded Sun Trilogy Omnibus (Alliance-Union Universe)
Paperback

* Individual store prices may vary.
Other Editions of This Title:
Paperback (1/1/2000)
Description
Now in trade paperback, all three books of the epic science fiction Faded Sun trilogy—Kesrith, Shon'jir, and Kutath—collected in one volume.

They were the mri—tall, secretive, bound by honor and the rigid dictates of their society. For aeons this golden-skinned, golden-eyed race had provided the universe mercenary soldiers of almost unimaginable ability.

But now the mri have faced an enemy unlike any other—an enemy whose only way of war is widespread destruction. These "humans" are mass fighters, creatures of the herb, and the mri have been slaughtered like animals. Now, in the aftermath of war, the mri face extinction.

It will be up to three individuals to save whatever remains of this devastated race: a warrior—one of the last survivors of his kind; a priestess of this honorable people; and a lone human—a man sworn to aid the enemy of his own kind. Can they retrace the galaxy-wide path of this nomadic race back through millennia to reclaim the ancient world that first gave them life?
Praise For The Faded Sun Trilogy Omnibus (Alliance-Union Universe)…
Praise for the Faded Sun trilogy:

"This is a powerful story... inspiring in its determination and feeling of strange loyalties and stranger courage. It sticks in the mind long after the last page is finished." —Analog

"Carefully wrought... Cherryh demonstrates an almost clinical eye for detail, creating an alien race in depth." —Publishers Weekly

"The Faded Sun Trilogy has an air of being something that was, that is, that could still be. This book is timeless and enduring." —SF Site
 
"Cherryh is a master of world-building.... Faded Sun has everything: well-defined alien cultures that are actually alien, some intriguing philosophical questions, a Soft SF look at cultural integration and extinction, a fluid struggle of political intrigue, developed planetary ecology, and a proper epic backdrop of intergalactic war for this amazing space opera." —Battered, Tattered, Yellowed, & Creased Blog

DAW, 9780756411961, 784pp.
Publication Date: June 11, 2019
About the Author
C. J. Cherryh planned to write since the age of ten. When she was older, she learned to use a typewriter while triple-majoring in Classics, Latin, and Greek. With more than seventy books to her credit, and the winner of three Hugo Awards, she is one of the most prolific and highly respected authors in the science fiction field. Cherryh was recently named a Damon Knight Memorial Grand Master by the Science Fiction Writers of America. She lives in Washington state. She can be found at cherryh.com.