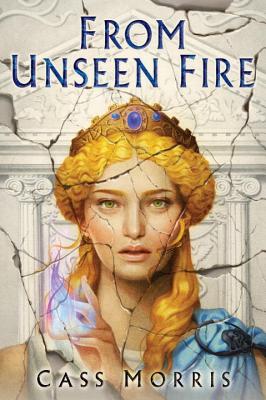 From Unseen Fire (Hardcover)
Daw Books, 9780756412241, 400pp.
Publication Date: April 3, 2018
Description
From Unseen Fire is the first novel in the Aven Cycle, a historical fantasy set in an alternate Rome, by debut author Cass Morris
The Dictator is dead; long live the Republic.
But whose Republic will it be? Senators, generals, and elemental mages vie for the power to shape the future of the city of Aven. One such mage, Latona of the Vitelliae, must rediscover her incredible powers of Fire and Spirit--which she suppressed for years at the Dictator's court--in order to protect her family and the city she loves.
Her siblings--a widow who conceals a canny political mind in the guise of a frivolous socialite, a young prophetess torn from the sanctuary of her temple, and a military tribune leading a dangerous expedition in the province of Iberia--will be her allies as she builds a place for herself in this new world, against the objections of their father, her husband, and the strictures of Aventan society.
Their paths intersect with that of Sempronius Tarren, a rising politician who dreams of a vast and harmonious empire growing from the nexus of their beloved city. He believes the gods have thrown down a personal challenge, and equipped him with the skills to steer Aven towards this glorious future--but in order to realize his goals, he will have to break the Republic's most sacred law. Although centuries-old custom dictates that no mage may hold the highest political offices, Sempronius, a Shadow mage who has kept his abilities a life-long secret, intends to do just that.
As rebellion brews in Iberia, Sempronius must outwit the ruthless leader of the opposing Senate faction to claim the political and military power he needs to achieve his--and Aven's--destiny. As Latona unleashes her magical potential, she discovers that Sempronius's extraordinary vision for their nation aligns with her desires to protect its people--but their burgeoning relationship may jeopardize the very future they seek to build in Aven.
About the Author
Cass Morris lives and works in the Blue Ridge Mountains of Virginia with the companionship of two royal felines, Princess and Ptolemy. She completed her Master of Letters at Mary Baldwin University in 2010, and she earned her undergraduate degree, a BA in English with a minor in history, from the College of William and Mary in 2007. She reads voraciously, wears corsets voluntarily, and will beat you at MarioKart. She can be found on Twitter at @CassRMorris.
Advertisement