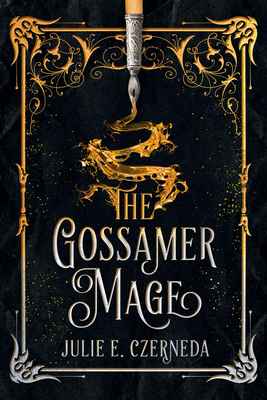 The Gossamer Mage
Paperback

* Individual store prices may vary.
Other Editions of This Title:
Digital Audiobook (8/5/2019)
MP3 CD (8/6/2019)
Compact Disc (8/6/2019)
Description
Winner of the 2020 Aurora Award for Best Novel, this fantasy epic tells the tale of one mage who must stand against a Deathless Goddess who controls all magic.

Only in Tananen do people worship a single deity: the Deathless Goddess. Only in this small, forbidden realm are there those haunted by words of no language known to woman or man. The words are Her Gift, and they summon magic.

Mage scribes learn to write Her words as intentions: spells to make beasts or plants, designed to any purpose. If an intention is flawed, what the mage creates is a gossamer: a magical creature as wild and free as it is costly for the mage.

For Her Gift comes at a steep price. Each successful intention ages a mage until they dare no more. But her magic demands to be used; the Deathless Goddess will take her fee, and mages will die.

To end this terrible toll, the greatest mage in Tananen vows to find and destroy Her. He has yet to learn She is all that protects Tananen from what waits outside. And all that keeps magic alive.
Praise For The Gossamer Mage…
Praise for The Gossamer Mage

"The Gossamer Mage is a wonderful book—rich language, strong world building, interesting characters, and a magic system that both pinches and soothes the heart. I loved this book, and I think it is Julie Czerneda's finest work so far." —Anne Bishop, New York Times bestselling author of Wild Country

"Czerneda is a fresh voice in fantasy—The Gossamer Mage is full of life and quirky, complex characters doing things that feel important... both because they're described with deft skill, and because you care about the characters as people." —S.M. Stirling, New York Times-bestselling author of the Change series and Theater of Spies

"The Gossamer Mage is like eating chocolate—smooth, addictive, and fabulous. And deliciously dark." —Kristen Britain, New York Times-bestselling author of the Green Rider series

"Every so often, a book comes along that is pure magic. The Gossamer Mage is such a book. Julie Czerneda's spellbinding take on magic-with-a-price is enthralling and exhilarating—a joy to read! I absolutely loved it!" —Sarah Beth Durst, award-winning author of The Queens of Renthia series

"This book is magic. Beautifully written. Gripping. A rich, real world—and we're right at the heart of things as it changes. And we learn the true price of magic. Magnificent. Oh, but this book is good! Grab it, take it home, and lose yourself in it!" —Ed Greenwood, award-winning creator of The Forgotten Realms

"Julie Czerneda is a true master. She has created a world rich and deeply textured, where magic and death are children of the same mother. Her characters jump off the page and walk beside you on your journey through Tananen. This story will stick with you long after you have devoured the last word." —Gerald Brandt, author of The Courier

"The Gossamer Mage enthralls with its original, brilliant take on magic and its vivid characters. I did not want this book to end!" —Beth Cato, author of Breath of Earth

"I wept at Czerneda's breathtaking revelation of magic's true purpose." —Lawrence M. Schoen, author of Barsk: The Elephants' Graveyard

"The Gossamer Mage is a delightfully challenging book with luxuriously stark worldbuilding that never once condescends to or spoon-feeds the reader. The tale and the complex characters that inhabit it are enthralling, with no easy answers about the complicated morality and literal cost of magic. Don't blink, don't skip, and don't skim. Every single word of this enrapturing work is vital—and like The Lady's magic—filled with deliberate intent." —J.M. Frey, author of The Accidental Turn series

"With lyrical, dreamlike prose and delightfully well-realized magic, Czerneda gives us a book that's easy to get lost in." —Marshall Ryan Maresca, author of the Maradaine novels

"The Gossamer Mage is masterfully penned with pure magic, summoning a world as intricate and finespun as its name. Simply exquisite!" —Amanda Sun, author of Heir to the Sky 

"Julie E. Czerneda takes a sledgehammer to the dusty conventions of modern fantasy with The Gossamer Mage, clearing the way for a completely new kind of magic. There's more invention and wonder here than in all the fantasy novels I read last year put together, and it's all in the service of one of the most twisty, unpredictable, and downright thrilling plots I've read in years. This book has horrific monsters, brave and noble heroes, profound mysteries, breathtaking surprises, and a truly original take on magic. Do yourself a favor. Read it." —Todd McAulty, author of The Robots of Gotham
DAW, 9780756412340, 416pp.
Publication Date: September 29, 2020
About the Author
Julie E. Czerneda is a biologist and best-selling writer whose science fiction has received international acclaim. She is the author of the popular Species Imperative trilogy, the Web Shifters series, and the Clan Chronicles novels. She was a finalist for the John W. Campbell Award for Best New Writer. Her stand-alone novel, In the Company of Others, won Canada's Prix Aurora Award and was a finalist for the Philip K. Dick Award for Distinguished SF. Her Night's Edge series, A Turn of Light and A Play of Shadow, won the Aurora Award for Best English Novel in two consecutive years. Julie has edited/co-edited sixteen SFF anthologies, including the Aurora-winning Space Inc. and Under Cover of Darkness. Julie lives with her husband and two children in the lake country of central Ontario, under skies so clear they could take seeing the Milky Way for granted, but never do.