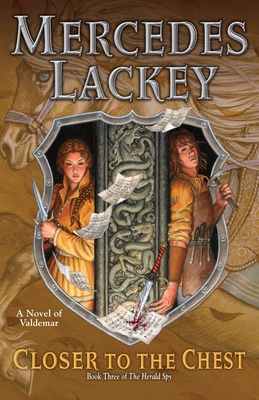 Closer to the Chest (Valdemar
The Herald Spy #3)
Mass Market

* Individual store prices may vary.
Other Editions of This Title:
Hardcover (10/4/2016)
MP3 CD (2/7/2017)
Description
New York Times-bestselling author Mercedes Lackey's Herald Spy series, set in the beloved fantasy world of Valdemar

Herald Mags, the King of Valdemar's Herald-Spy, has been developing a clandestine network of young informants who operate not only on the streets of the capital city of Haven, but also in the Great Halls and kitchens of the wealthy and highborn. In his own established alternate personas, Mags observes the Court and the alleys alike, quietly gathering information to keep Haven and the Kingdom safe.
 
His wife Amily, is growing into her position as the King's Own Herald, though she is irritated to encounter many who still consider her father, Herald Nikolas, to be the real King's Own. Nonetheless, she finds it increasingly useful to be underestimated, for there are dark things stirring in the shadows of Haven and up on the Hill.

Someone has discovered many secrets of the women of the Court and the Collegia—and is using those secrets to terrorize and bully them. Someone is targeting the religious houses of women, too, leaving behind destruction and obscene ravings.
           
But who? Someone at the Court? A disgruntled Palace servant? One of the members of the Collegia? Someone in the patriarchal sect of the god Sethor? Could the villain be a woman? And what is this person hoping to achieve? It isn't blackmail, for the letters demand nothing; the aim seems to be the victims' panic and despair. But why?
 
Mags and Amily take steps to minimize the damage while using both magic and wits to find the evildoer. But just as they appear to be on the verge of success, the letter-writer tires of terror and is now out for blood.
 
Mags and Amily will have to track down someone who leaves few clues behind and thwart whatever plans have been set in motion, and quickly—before terror turns to murder.
Praise For Closer to the Chest (Valdemar: The Herald Spy #3)…
Praise for The Collegium Chronicles:

"Thanks to court intrigues and an attempt by foreign infiltrators to trick Valdemar to its disadvantage, Lackey makes a real page-turner out of Mags' and the collegia's development." ―Booklist

"For fans of her work, the return to the land of Valdemar and the continued tale of treasured characters will not disappoint―and new readers are likely to become devoted fans. Lackey has a playful writing style that is easy to become engrossed in." ―RT Book Reviews

"Returning to her beloved Valdemar universe, Lackey opens her new series at a pivotal time in the history of Valdemar.... Series fans will enjoy the variations on a familiar theme, while enough information is presented for first-timers to discover a world of high adventure and individual courage. Highly recommended." ―Library Journal

"Lackey has effortlessly returned us to the wondrous realm of Valdemar." ―Night Owl Reviews

"As always, she tells an entertaining and enjoyable tale of Valdemar with characters we love and a world we'll always want to visit." ―Pop Culture Beast

"Closer to the Heart has the two things that have always made me love these books: a richly detailed history of the world, and beautiful writing." —The Arched Doorway
DAW, 9780756412401, 384pp.
Publication Date: October 3, 2017
About the Author
Mercedes Lackey is a full-time writer and has published numerous novels and works of short fiction, including the best-selling Heralds of Valdemar series. She is also a professional lyricist and a licensed wild bird rehabilitator. She lives in Oklahoma with her husband, artist Larry Dixon, and their flock of parrots. She can be found at mercedeslackey.com or on Twitter at @mercedeslackey.