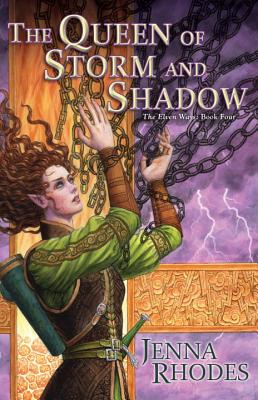 The Queen of Storm and Shadow (Elven Ways #4)
Mass Market

* Individual store prices may vary.
Other Editions of This Title:
Paperback (5/2/2017)
Description
The Queen of Storm and Shadow is the fourth and final novel in the spellbinding fantasy epic, The Elven Ways.  

The world of Kerith has reached a pivotal moment in its history, as rival factions are forced to band together against both known enemies and an unexpected invasion force. 

Life, Death, and the elemental Gods have awakened in the lands of Kerith after a cataclysmic collision with Trevalka, home of Vaelinar ambition, lies, and magic. Only a handful of the bravest and most foolhardy left standing dare to face the consequences of these two worlds meeting. Unwillingly thrust through space and time, the Vaelinars have made the most of their exile and woven the threads of their magic deep into the fabric of Kerith. Makers and masters of the Elven Ways, now they, and the Gods, must choose their final paths.

Rivergrace and her partner Sevryn have no choice but to cross the treacherous divide between worlds in pursuit of Quendius and his army of Undead. They are determined to risk everything to prevent the Death Master from joining forces with the queen of lost Trevalka, a tyrant who has risen to power by draining the energies of those around her. Cut off from all their allies and friends, Rivergrace and Sevryn may have to sacrifice their magic, their love, and their very existence to save the world they left behind. 

Back on Kerith, the Warrior Queen Lariel awakens from an assassination attempt to find her people on the brink of civil war. Lariel's heirs—Nutmeg Farbranch's children—have been kidnapped, and Nutmeg will risk anything for their safe return. As primal forces rise in judgment, Dwellers, Kernans, Galdarkans, and Vaelinars alike must pick allies carefully if any of them are to survive.
Praise For The Queen of Storm and Shadow (Elven Ways #4)…
Praise for The Elven Ways series:

"Sevryn Dardanon is not your typical elf.  In fact, the world of Kerith is not your typical elf world…spectacular series debut…fresh variations on the standard epic fantasy tropes." —Publishers Weekly (for The Four Forges)

"Rhodes evokes an atmosphere of urgency in her series opener, set in a world of ever-shifting alliances and unforeseen dangers.  Strong characters and a compelling story make this a good choice." —Library Journal

"The intricately plotted, character-driven saga of the Vaelinar's desperate struggles finds anchors in folklore and legend, appealing to fans of slower pacing and detailed worldbuilding." —Publishers Weekly (for The Dark Ferryman)

"Richly drawn settings and intricate plots." —Booklist

"…a fantastic epic fantasy in what looks like it will be a special series similar to the works of Tad Williams and other great epic fantasists.  The key cast members are believable individuals with distinct personalities.  Jenna Rhodes leaves enough threads for readers to look forward to the next tale, but in a paradox The Four Forges feels complete." —The Book Review Forum

"Rhodes has built a fully realized world with engaging characters with a dangerous manifest destiny.  The characters are complex and real in perilous times and leave you waiting anxiously to see what is resolved.  A bright beginning for a new light on the fantasy horizon." —ConNotations
DAW, 9780756412883, 576pp.
Publication Date: April 3, 2018
About the Author
Jenna Rhodes (a pseudonym used by R. A. V. Salsitz), was born in Phoenix, Arizona and is a writer of science fiction, fantasy, and mystery novels. She also writes under the names Emily Drake, Anne Knight, Elizabeth Forrest, Charles Ingrid, Rhondi Vilott Salsitz, R.A.V. Salsitz, Rhondi Vilott, and Rhondi Greening. Rhodes has been writing since she was in 3rd grade. She has published over 50 books and short stories. She can be found at rhondiann.com.