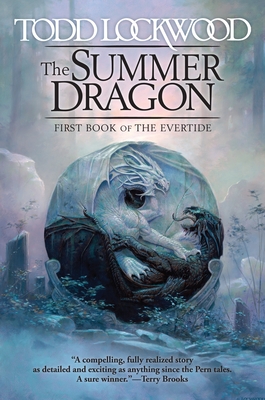 The Summer Dragon (Evertide #1)
Paperback

* Individual store prices may vary.
Other Editions of This Title:
MP3 CD (12/27/2016)
Mass Market (5/1/2018)
Description
The debut novel from the acclaimed illustrator--a high fantasy adventure featuring dragons and deadly politics.

Maia and her family raise dragons for the political war machine. As she comes of age, she hopes for a dragon of her own to add to the stable of breeding parents. But the war goes badly, and the needs of the Dragonry dash her hopes. Her peaceful life is shattered when the Summer Dragon—one of the rare and mythical High Dragons—makes an appearance in her quiet valley. The Summer Dragon is an omen of change, but no one knows for certain what kind of change he augurs. Political factions vie to control the implied message, each to further their own agendas.

And so Maia is swept into an adventure that pits her against the deathless Horrors—thralls of the enemy—and a faceless creature drawn from her fears. In her fight to preserve everything she knows and loves, she uncovers secrets that challenge her understanding of her world and of herself.
Praise For The Summer Dragon (Evertide #1)…
Praise for The Summer Dragon: 

"The master of dragon art brings the same skills to dragon storytelling. This is a compelling, fully realized story which is as detailed and exciting as anything since the Pern tales. A sure winner." —Terry Brooks, New York Times-bestselling author of the Shannara novels

"It's no surprise that Todd Lockwood can build a wonderful setting and world—he does it with his art all the time. But what strikes me about The Summer Dragon is that the shining elements of this novel are the characters. Using words instead of his paintbrush, Todd builds characters you care about, laugh with and cheer for." —R. A. Salvatore, New York Times-bestselling author of The Legend of Drizzt

"I loved The Summer Dragon! I couldn't put it down, even though I should have been working on my own book." —Kristen Britain, New York Times-bestselling author of Green Rider 

"Packed with action and fully-developed characters, both human and scaly, Summer Dragon is a dragon for all seasons." —Alan Dean Foster, author of Star Wars: The Force Awakens

"Todd Lockwood's dragons come to life on the page: more than animals, different from humans, and beautifully plausible without losing their fantastic touch. The Summer Dragon offers a welcome new take on the dragon-riding genre." —Marie Brennan, author of The Natural History of Dragons

"Renowned artist Todd Lockwood shares his debut novel at last, a written work as vivid as the dragons he so loves to paint." —Shawn Speakman, author of The Dark Thorn

"The master of dragon art brings the same skills to dragon storytelling. This is a compelling, fantastically-wrought adventure story, and Maia, the brave, intelligent, but flawed heroine, someone you can really root for. And the dragons? Oh, the dragons!" —Lou Anders, author of Frostborn

"Fans of dragons and the fantasy art of Todd Lockwood will find a bonanza with this book." —Huffington Post

"Vivid imagery and a cast of rich, diverse characters combine to make Lockwood's first full-length outing a rousing success." —Publishers Weekly

"Lockwood has written a fantasy novel that is both classical and modern, one that pulses with a sense of history and emotion." —B&N Sci-fi & Fantasy Blog
DAW, 9780756413125, 512pp.
Publication Date: May 2, 2017
About the Author
Todd Lockwood's art has appeared on New York Times-bestselling novels, industry magazines, and fantasy/science fiction games, such as Dungeons and Dragons and Magic: The Gathering. He has won more than 15 Chesley Awards, including the Lifetime Achievement Award, and two World Fantasy Art Show Awards. He currently lives in Washington with his wife and three children. The Summer Dragon is his debut novel. He can be found at toddlockwood.com.
or
Not Currently Available for Direct Purchase