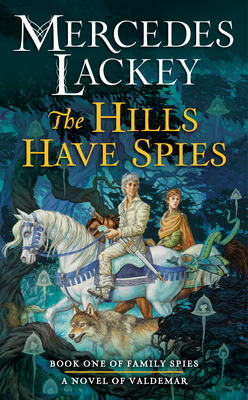 The Hills Have Spies (Valdemar
Family Spies #1)
Mass Market

* Individual store prices may vary.
Other Editions of This Title:
Hardcover (6/5/2018)
MP3 CD (8/21/2018)
Description
In this new series, set in the bestselling world of Valdemar, Heralds Mags and Amily must continue to protect the realm of Valdemar while raising their children and preparing them to follow in their footsteps.

Mags, Herald Spy of Valdemar, and his wife, Amily, the King's Own Herald, are happily married with three kids. The oldest, Peregrine, has the Gift of Animal Mindspeech—he can talk to animals and persuade them to act as he wishes. Perry's dream is to follow in his father's footsteps as a Herald Spy, but he has yet to be Chosen by a Companion.

Mags is more than happy to teach Perry all he knows. He regularly trains his children, including Perry, with tests and exercises, preparing them for the complicated and dangerous lives they will likely lead. Perry has already held positions in the Royal Palace as a runner and in the kitchen, useful places where he can learn to listen and collect information.

But there is growing rural unrest in a community on the border of Valdemar. A report filled with tales of strange disappearances and missing peddlers is sent to Haven by a Herald from the Pelagirs. To let Perry experience life away from home and out in the world, Mags proposes that his son accompany him on an expedition to discover what is really going on.

During their travels, Perry's Animal Mindspeech allows him to communicate with the local wildlife of the Pelagirs, whose connection to the land aids in their investigation. But the details he gleans from the creatures only deepen the mystery. As Perry, Mags, and their animal companions draw closer to the heart of the danger, they must discover the truth behind the disappearances at the border—before those disappearances turn deadly.
Praise For The Hills Have Spies (Valdemar: Family Spies #1)…
Praise for the Herald Spy trilogy:

"Whether it's the spellbinding world, the intrigue of the plot, or the simple yet remarkable narrative style – it is impossible to say which of these makes the story so good, but one thing is for sure: Closer to Home marks the beginning of another fantastic Lackey series." —RT Reviews

"With an unusually strong Gift that allows him to Mindspeak and Mindhear, Mags is perfectly suited for his role, and this sequel gives fans another opportunity to explore Lackey's storied universe of Valdemar, one of the best-imagined fantasy universes in history." —Barnes & Noble Bookseller Picks

"Mags remains an engaging character, and makes a very capable spy/investigator...his adventures still make engrossing reading." —Locus

"Closer to the Heart has the two things that have always made me love these books: a richly detailed history of the world, and beautiful writing." —The Arched Doorway
DAW, 9780756413187, 352pp.
Publication Date: June 4, 2019
About the Author
Mercedes Lackey is a full-time writer and has published numerous novels and works of short fiction, including the bestselling Heralds of Valdemar series. She is also a professional lyricist and a licensed wild bird rehabilitator.