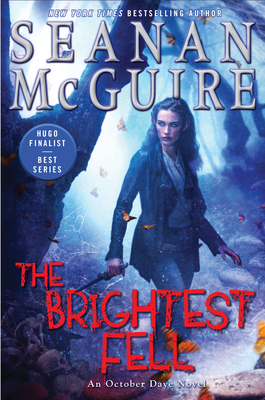 The Brightest Fell (Hardcover)
Daw Books, 9780756413316, 368pp.
Publication Date: September 5, 2017
Description
New York Times-bestselling October Daye faerie series - Hugo Award-winning author Seanan McGuire - "Top of my urban-paranormal series list " --Felicia Day Contains an original bonus novella, Of Things Unknown Things are slow, and October "Toby" Daye couldn't be happier about that. The elf-shot cure has been approved, Arden Windermere is settling into her position as Queen in the Mists, and Toby doesn't have anything demanding her attention except for wedding planning and spending time with her family. Maybe she should have realized that it was too good to last. When Toby's mother, Amandine, appears on her doorstep with a demand for help, refusing her seems like the right thing to do...until Amandine starts taking hostages, and everything changes. Now Toby doesn't have a choice about whether or not she does as her mother asks. Not with Jazz and Tybalt's lives hanging in the balance. But who could possibly help her find a pureblood she's never met, one who's been missing for over a hundred years? Enter Simon Torquill, elf-shot enemy turned awakened, uneasy ally. Together, the two of them must try to solve one of the greatest mysteries in the Mists: what happened to Amandine's oldest daughter, August, who disappeared in 1906. This is one missing person case Toby can't afford to get wrong.
About the Author
Seanan McGuire is a California-based author with a strong penchant for travel and can regularly be found just about anyplace capable of supporting human life (as well as a few places that probably aren't). Early exposure to a vast number of books left her with a lifelong affection for the written word, and led, perhaps inevitably, to her writing books of her own, starting somewhere around the age of eleven. The October Daye novels are her first urban fantasy series, and the InCryptid novels are her second series, both published by DAW and bother of which have put her in the New York Times bestseller list. Seanan was the winner of the 2010 John W. Campbell Award for Best New Writer; Rosemary and Rue, the first novel in the October Daye series, was named one of the Top 20 Paranormal Fantasy Novels of the Past Decade; and her novel Feed, written under the name Mira Grant, was named as one of Publishers Weekly's Best Books of 2010. She also won a Hugo for her podcast, and is the first person to be nominated for five Hugo Awards in a single year. You can visit her at www.seananmcguire.com.
Advertisement