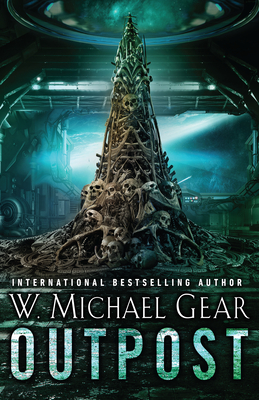 Outpost (Donovan #1)
Mass Market

* Individual store prices may vary.
Other Editions of This Title:
Hardcover (2/20/2018)
Description
From the bestselling co-author of the People novels comes a riveting science fiction adventure on a planet with danger around every corner

Donovan is a world of remarkable wealth, a habitable paradise of a planet. It sounds like a dream come true. But Donovan's wealth comes at a price.

When the ship Turalon arrives in orbit, Supervisor Kalico Aguila discovers a failing colony, its government overthrown and the few remaining colonists now gone wild. Donovan offers the chance of a lifetime, one that could leave her the most powerful woman in the solar system. Or dead.

Planetside, Talina Perez is one of three rulers of the Port Authority colony—the only law left in the one remaining town on Donovan. With the Corporate ship demanding answers about the things she's done in the name of survival, Perez could lose everything, including her life.

For Dan Wirth, Donovan is a last chance. A psychopath with a death sentence looming over his head, he can't wait to set foot on Port Authority. He will make one desperate play to grab a piece of the action—no matter who he has to corrupt, murder, or destroy.

Captain Max Taggart has been The Corporation's "go-to" guy when it comes to brutal enforcement. As the situation in Port Authority deteriorates, he'll be faced with tough choices to control the wild Donovanians. Only Talina Perez stands in his way.

Just as matters spiral out of control, a ghost ship, the Freelander, appears in orbit. Missing for two years, she arrives with a crew dead of old age, and reeks of a bizarre death-cult ritual that deters any ship from attempting a return journey. And in the meantime, a brutal killer is stalking all of them, for Donovan plays its own complex and deadly game. The secrets of which are hidden in Talina Perez's very blood.
Praise For Outpost (Donovan #1)…
Praise for Outpost:

"What a ride!  Excitement, adventure, and intrigue, all told in W. Michael Gear's vivid, compulsively readable prose.  A terrific new science-fiction series; Gear hits a home run right out of the park and all the way to Capella." —Robert J. Sawyer, Hugo Award-winning author of Quantum Night
 
"A marginal colony on a living world—where human life and human will are tested to the limits. An intriguing and inventive new work from Michael Gear, first of a trilogy. Recommended!" —C. J. Cherryh, Hugo Award-winning author of Downbelow Station

"W. Michael Gear creates a fun and colorful setting on a planet full of interesting fauna and cunning, deadly animals." —RT Reviews

"Gear kicks off a new sf series by weaving a number of compelling characters into the narrative, including bold heroine Talina Perez and Donovan itself, a planet teeming with danger and delights in turn.... Fans of epic space opera, like Rachel Bach's Fortune's Pawn (2013), will happily lose themselves in Donovan's orbit." —Booklist

"A thrilling tale of high stakes survival on an alien planet." —Dread Central
DAW, 9780756413385, 464pp.
Publication Date: February 5, 2019
About the Author
W. Michael Gear is the author or co-author with his beloved wife, Kathleen O'Neal Gear, of fifty-seven published novels.  He is a New York Times, USA Today, and international bestselling author whose work has been translated into 29 languages and has over 17 million copies in print world wide. Both and anthropologist and archaeologist, he brings extraordinary depth and complexity to his characters and settings.  Gear lives on a back country buffalo ranch in Wyoming where he raises outstanding bison, indulges in his passion for large-caliber rifles, and pets his two shelties: Jake and Shannon. Michael can be found at gear-gear.com.