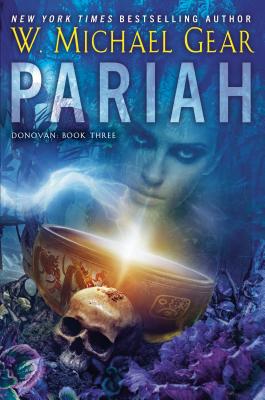 Pariah (Donovan #3)
Hardcover

* Individual store prices may vary.
Other Editions of This Title:
Digital Audiobook (8/26/2019)
Mass Market (3/31/2020)
Description
The third book in the thrilling Donovan series, a sci-fi action adventure set on a treacherous alien planet where corporate threats and dangerous creatures imperil the lives of the colonists.

Corporate assassin Tamarland Benteen's last hope is the survey ship Vixen. With a load of scientists aboard under the supervision of Dr. Dortmund Weisbacher, Vixen is tasked with the first comprehensive survey of the newly discovered planet called Donovan. Given that back in Solar System, Boardmember Radcek would have Benteen's brain dissected, he's particularly motivated to make his escape.

The transition that should have taken Vixen years is instantaneous. Worse, a space ship is already orbiting Donovan, and, impossibly, human settlements have been established on the planet. For Dortmund Weisbacher, this is a violation of the most basic conservation tenets. Donovan is an ecological disaster.

Down on Donovan, Talina Perez takes refuge in the ruins of Mundo Base with the wild child, Kylee Simonov. But the quetzals are playing their own deadly game: one that forces Talina and Kylee to flee farther into the wilderness. Too bad they're stuck with Dortmund Weisbacher in the process.

Back in Port Authority, Dan Wirth discovers that he's not the meanest or deadliest man on the planet. Tamarland Benteen is making his play for control of PA. And in the final struggle, if Benteen can't have it, he'll destroy it all.
Praise For Pariah (Donovan #3)…
Praise for the Donovan novels:

"What a ride! Excitement, adventure, and intrigue, all told in W. Michael Gear's vivid, compulsively readable prose. A terrific new science-fiction series; Gear hits a home run right out of the park and all the way to Capella." —Robert J. Sawyer, Hugo Award-winning author of Quantum Night
 
"A marginal colony on a living world--where human life and human will are tested to the limits. An intriguing and inventive new work from Michael Gear, first of a trilogy. Recommended!" —C. J. Cherryh, Hugo Award-winning author of Downbelow Station
 
"Gear kicks off a new sf series by weaving a number of compelling characters into the narrative, including bold heroine Talina Perez and Donovan itself, a planet teeming with danger and delights in turn.... Fans of epic space opera, like Rachel Bach's Fortune's Pawn (2013), will happily lose themselves in Donovan's orbit." —Booklist
 
"W. Michael Gear creates a fun and colorful setting on a planet full of interesting fauna and cunning, deadly animals." —RT Reviews
 
"Dark and gritty, this book shows both the best and worst sides of humanity, all while being emotional and thought-provoking." —It Starts at Midnight
 
"It's not easy to create an entire new planet setting and to immediately ground the reader in that world, but Gear makes it look easy.... He strikes an impressive balance between only telling us what we need to know when we need to know it and making this feel like a fully-realized place from the get-go." —Den of Geek
 
"The novel's prose is as razor-sharp as Donovan's toothy beasts, its characters deftly defined. The enveloping narrative gallops along at a fierce pace and will make Outpost one of the must-read sci-fi releases of 2018 when it arrives on February 20 from DAW Books." —SyFy Wire
 
"A thrilling tale of high-stakes survival on an alien planet." —Dread Central
DAW, 9780756413439, 496pp.
Publication Date: May 14, 2019
About the Author
W. Michael Gear is the author or co-author with his beloved wife, Kathleen O'Neal Gear, of fifty-seven published novels.  He is a New York Times, USA Today, and international bestselling author whose work has been translated into 29 languages and has over 17 million copies in print world wide. Both and anthropologist and archaeologist, he brings extraordinary depth and complexity to his characters and settings.  Gear lives on a back country buffalo ranch in Wyoming where he raises outstanding bison, indulges in his passion for large-caliber rifles, and pets his two shelties: Jake and Shannon. Michael can be found at gear-gear.com.
or
Not Currently Available for Direct Purchase