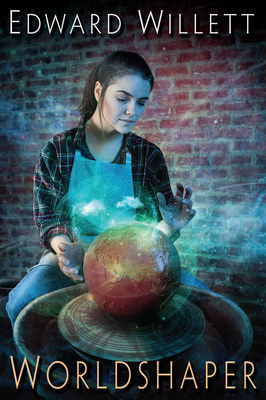 Worldshaper (Worldshapers #1)
Paperback

* Individual store prices may vary.
Other Editions of This Title:
Digital Audiobook (2/25/2019)
Mass Market (8/6/2019)
Description
From an Aurora Award-winning author comes the first book in a new portal fantasy series in which one woman's powers open the way to a labyrinth of new dimensions.

For Shawna Keys, the world is almost perfect. She's just opened a pottery studio in a beautiful city. She's in love with a wonderful man. She has good friends.

But one shattering moment of violence changes everything. Mysterious attackers kill her best friend. They're about to kill Shawna. She can't believe it's happening--and just like that, it isn't. It hasn't. No one else remembers the attack, or her friend. To everyone else, Shawna's friend never existed...

Everyone, that is, except the mysterious stranger who shows up in Shawna's shop. He claims her world has been perfect because she Shaped it to be perfect; that it is only one of uncounted Shaped worlds in a great Labyrinth; and that all those worlds are under threat from the Adversary who has now invaded hers. She cannot save her world, he says, but she might be able to save others--if she will follow him from world to world, learning their secrets and carrying them to Ygrair, the mysterious Lady at the Labyrinth's heart.

Frightened and hounded, Shawna sets off on a desperate journey, uncertain whom she can trust, how to use her newfound power, and what awaits her in the myriad worlds beyond her own.
Praise For Worldshaper (Worldshapers #1)…
Praise for Edward Willett's science fiction:

"Willett brings J.G. Ballard's High-Rise into the distant space age in this dystopian tale of class, power and freedom that will entertain devotees and non-genre fans alike." —RT Reviews

"Willett wraps his capable new adult science fiction adventure around the fate of a mysterious many-tiered city and its inhabitants.... Willett's spunky protagonists and colorful world will entertain SF adventure fans." —Publishers Weekly

"Set in a metal city at the center of the mountain ringed Heartland, The Cityborn is sprawling space opera centering on Alania, born to the City's privileged caste, and Danyl, a lowborn scavenger.... This is one suspenseful sci-fi thriller not to be missed." —Unbound Worlds

"Their moral dilemma is only one of the reasons this novel is so fascinating. The Selkie culture and infrastructure is very picturesque and easily pictured by readers who will want to visit his exotic world." —Midwest Book Review

"Mr. Willett blends science fiction with heavy religious beliefs into a well-written storyline that's filled with dramatic scenery and character detail. Sci-fi and fantasy fans should find this story full and entertaining." —Darque Reviews

"An intriguing take on genetic modification.... A very good read." —Night Owl Reviews

"The author was constantly surprising me, which doesn't happen often, twisting the usual sci-fi conventions into more than just a shoot 'em up space opera. Edward Willett has created people, personalities with belief systems and misguided judgments who make mistakes in trying to do what they believe is right." —Boomtron

"Terra Insegura is an action-packed thrill-ride...a novel that knows it is good science fiction and isn't afraid to show it...science fiction at its best." —Fantasy & SciFi Lovin' News & Reviews

"Both of Willett's books in this series have a wonderful, driving pace, which, when coupled with multiple well-rounded characters and fascinating stories, make wonderful, captivating books that deserve to be read over and over." —Book Chick
DAW, 9780756413460, 368pp.
Publication Date: September 18, 2018
About the Author
Edward Willett was born in New Mexico. He's been a newspaper reporter and editorial cartoonist, a magazine editor, a writing instructor and a professional actor. He has written more than 30 works of nonfiction, ranging from biographies to science books to history books, but his first love has always been fantasy. He now lives in Regina, Saskatchewan, Canada, with his wife and a daughter. He can be found at ecblake.com.
or
Not Currently Available for Direct Purchase