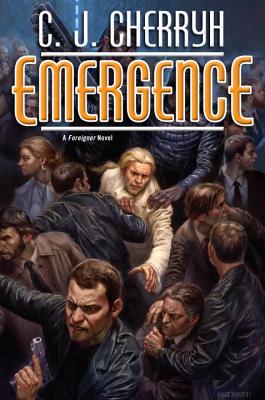 Emergence (Foreigner #19)
Hardcover

* Individual store prices may vary.
Other Editions of This Title:
Mass Market (1/8/2019)
MP3 CD (4/17/2018)
Description
The nineteenth book in the beloved Foreigner space opera series begins a new era for human diplomat Bren Cameron, as he navigates the tenuous peace between human refugees and the alien atevi.

Bren Cameron, acting as the representative of the atevi's political leader, Tabini-aiji, as well as translator between humans and atevi, has undertaken a mission to the human enclave of Mospheira. Both his presence on the island and his absence from the continent have stirred old enemies to realize new opportunities.
 
Old hatreds. Old grudges. Old ambitions.
 
The situation has strengthened the determination of power-seekers on both sides of the strait. Bren knows most of them very well, but not all of them well enough. The space station on which the world increasingly relies is desperate to get more supplies up to orbit and to get a critical oversupply of human refugees down to the world below. Rationing is in force on the station, but the overpopulation problem has to be solved quickly—and Bren's mission on Mospheira has expanded to include preparation for that landing.
 
First down will be the three children to whom Tabini's son has a close connection. But following them will be thousands of humans who have never set foot on a planet, humans descended from colonists and officers who split off from Mospheiran humans two hundred years before in a bitter parting of the ways. There is no way the atevi, native to the world, will cede any more land to these new arrivals: they will have to share the island. But certain Mospheirans are willing to use force to prevent these refugees from settling among them.
 
Bren's job is as general peacemaker—but old enemies want war. Is Bren's diplomatic acumen enough to prevent a war that both sides are prepared to wage?
Praise For Emergence (Foreigner #19)…
Praise for the Foreigner series:

"C.J. Cherryh's splendid Foreigner series remains at the top of my must-keep-up reading list after two decades." —Locus

"This is the kind of anthropological SF of which [Cherryh] is an acknowledged master." —Booklist

"A seriously probing, thoughtful, intelligent piece of work, with more insight in half a dozen pages than most authors manage in half a thousand." —Kirkus Reviews

"One of the best long-running SF series in existence...Cherryh remains one of the most talented writers in the field." —Publishers Weekly

"This is one of the best science fiction series currently running….by this point, the series has turned into a complicated set of thrillers involving political and factional turmoil, as well as a close and detailed examination of the troubled interactions between human and alien cultures." —Strange Horizons 

"My favorite science fiction series is C. J. Cherryh's Foreigner Universe. Cherryh deftly balances alien psychology and human vanities in a character caught between being human and part of an alien race." —Denver Post

"Cherryh plays her strongest suit in this exploration of human/alien contact, producing an incisive study-in-contrast of what it means to be human in a world where trust is nonexistent." —Library Journal

"A large new novel from C.J. Cherryh is always welcome. When it marks her return to the anthropological SF in which she has made such a name, it is a double pleasure. The ensuing story is not short on action, but stronger (like much of Cherryh's work) on world-building, exotic aliens, and characterization. Well up to Cherryh's usual high standard." —The Chicago Sun-Times

"[Cherryh] avoids any kind of slump with a quick-moving and immediately engaging plotline, and by balancing satisfying resolutions with plenty of promises and ominous portents that are sure to keep readers' appetites whetted." —RT Reviews

 "These are thinking man's reads with rich characters and worlds and fascinating interactions that stretch out over many generations." —SFFWorld

"Cherryh's forte is her handling of cross-cultural conflicts, which she does by tying her narrative to those things her point-of-view character would know, think, and feel."—SFRevu 

"The Foreigner series is about as good as it gets...so finely and densely wrought that you may end up dreaming of sable-skinned giants with gold eyes, and the silver spun delicacy of interstellar politics." —SF Site
DAW, 9780756414146, 336pp.
Publication Date: January 2, 2018
About the Author
SFWA Grand Master C.J. Cherryh has written more than seventy books, including the highly popular Foreigner science fiction series. She won the Hugo Award for her novels Downbelow Station and Cyteen, and her short story "Cassandra." She has also won the Campbell Award, Locus Award, and more.
or
Not Currently Available for Direct Purchase