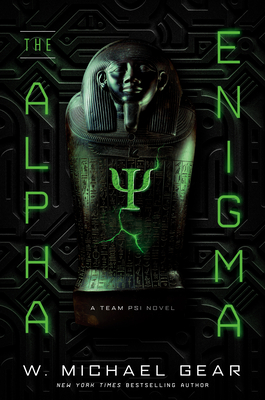 The Alpha Enigma (Team Psi #1)
Hardcover

* Individual store prices may vary.
Other Editions of This Title:
Mass Market (10/5/2021)
Paperback (10/5/2021)
Description
A thrilling new science fiction mystery from the New York Times bestselling author of the Donovan novels

Dr. Timothy Ryan, head of the military psychiatric unit at Grantham Barracks, is meeting a new patient, a woman known as "Prisoner Alpha." As she is being transferred, they are attacked by assassins, barely escaping with their lives. One shooter vanishes, leaving behind a dead companion unlike anyone Ryan has ever seen.

But even more baffling is the puzzle of Alpha herself. She speaks in a strange tongue, and doodles in bars, dots, and little pictures like nothing Ryan has ever seen. Is she some sort of savant, or the most cunning spy he's ever met?

Meanwhile, in Egypt, archaeologist Reid Farmer uncovers an 18th-Dynasty tomb that shouldn't exist, filled with Mayan epigraphy, mathematics, and materials that didn't exist 3,000 years ago. As a result of this discovery, Reid and forensic anthropologist Kilgore France—along with the sarcophagus they have found—are snatched away to a hidden lab to solve the enigma of a man lost in time.

As dark forces gather, Alpha makes an impossible escape from Grantham. Ryan quickly becomes the prime suspect in her disappearance, but with a team of unique allies, sets out to prove his innocence. Together, they must find Alpha and save Ryan before it is too late.
Praise For The Alpha Enigma (Team Psi #1)…
Praise for W. Michael Gear

"What a ride! Excitement, adventure, and intrigue, all told in W. Michael Gear's vivid, compulsively readable prose. A terrific new science-fiction series; Gear hits a home run right out of the park and all the way to Capella." —Robert J. Sawyer, Hugo Award-winning author of Quantum Night
 
"A marginal colony on a living world—where human life and human will are tested to the limits. An intriguing and inventive new work from Michael Gear, first of a trilogy. Recommended!" —C. J. Cherryh, Hugo Award-winning author of Downbelow Station
 
"Gear kicks off a new sf series by weaving a number of compelling characters into the narrative, including bold heroine Talina Perez and Donovan itself, a planet teeming with danger and delights in turn.... Fans of epic space opera, like Rachel Bach's Fortune's Pawn (2013), will happily lose themselves in Donovan's orbit." —Booklist
 
"W. Michael Gear creates a fun and colorful setting on a planet full of interesting fauna and cunning, deadly animals." —RT Reviews
 
"Dark and gritty, this book shows both the best and worst sides of humanity, all while being emotional and thought-provoking." —It Starts at Midnight
 
"It's not easy to create an entire new planet setting and to immediately ground the reader in that world, but Gear makes it look easy.... He strikes an impressive balance between only telling us what we need to know when we need to know it and making this feel like a fully-realized place from the get-go." —Den of Geek
 
"The novel's prose is as razor-sharp as Donovan's toothy beasts, its characters deftly defined. The enveloping narrative gallops along at a fierce pace and will make Outpost one of the must-read sci-fi releases of 2018 when it arrives on February 20 from DAW Books." —SyFy Wire
 
"A thrilling tale of high-stakes survival on an alien planet." —Dread Central
DAW, 9780756414467, 464pp.
Publication Date: November 3, 2020
About the Author
W. Michael Gear is a New York Times and international  bestselling author with 17 million copies of his books in print. Married to bestselling author Kathleen O'Neal Gear, he holds a master's degree in anthropology, has authored more than 50 novels, and has been translated into 29 languages. He has worked as a forensic anthropologist, was principal investigator in his own archaeological firm, and raised bison for 29 years. He was twice awarded Producer of the Year by the National Bison Association. His hobbies include shooting large-caliber rifles and long-distance touring on his Moto Guzzi named Sheela. Gear lives in Wyoming.