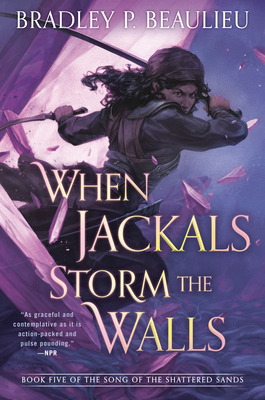 When Jackals Storm the Walls (Song of Shattered Sands #5)
Hardcover

* Individual store prices may vary.
Other Editions of This Title:
Paperback (6/15/2021)
Description
The fifth book in The Song of the Shattered Sands series--an epic fantasy with a desert setting, filled with rich worldbuilding and pulse-pounding action.

The reign of the kings of Sharakhai has been broken. The blood mage, Queen Meryam, now rules the city along with the descendants of the fabled twelve kings.

In the desert, Çeda has succeeded in breaking the asirim's curse. Those twisted creatures are now free, but their freedom comes at great cost. Nalamae lies dead, slain in battle with her sister goddess. Çeda, knowing Nalamae would have been reborn on her death, sets out on a quest to find her.

The trail leads Çeda to Sharakhai where, unbeknownst to her, others are searching for Nalamae as well. Çeda's quest to find her forces her into a terrible decision: work with the kings or risk Sharakhai's destruction.

Whatever her decision, it won't be easy. Sharakhai is once more threatened by the forces of the neighboring kingdoms. As the powers of the desert vie for control of the city, Çeda, her allies, and the fallen kings must navigate the shifting fates before the city they love falls to the schemes of the desert gods.
Praise For When Jackals Storm the Walls (Song of Shattered Sands #5)…
Praise for The Song of Shattered Sands series

"Çeda and Emre share a relationship seldom explored in fantasy, one that will be tried to the utmost as similar ideals provoke them to explore different paths. Wise readers will hop on this train now, as the journey promises to be breathtaking." —Robin Hobb, bestselling author of Fool's Assassin

"Fantasy and horror, catacombs and sarcophagi, resurrections and revelations: the book has them all, and Beaulieu wraps it up in a package that's as graceful and contemplative as it is action-packed and pulse-pounding." —NPR

"The Song of Shattered Sands series is both gripping and engrossing." —Kirkus Reviews

"Beaulieu richly imagines several multifaceted societies, a variety of arcane systems, and a host of supernatural entities."--Publishers Weekly

"Bradley P. Beaulieu continues to move the story forward in an intriguing fashion, weaving his plotlines into a great tapestry that promies a lot of great things to come."--Pat's Fantasy Hotlist

"Beaulieu's intricate world-building and complex characters are quickly becoming the hallmarks of his writing, and if this opening volume is any indication, [this series] will be one of the next great fantasy epics." —B&N SF&F Blog

"The city of Sharakhai and surrounding area is a living, breathing thing and I revel in it. Beautiful writing, a deep and exciting story and characters you care about." —Shelf Inflicted

"[Beaulieu's] writing is more an immersive experience than anything else; he draws the reader in with such great skill. The first novel was an electrifying start to the series, providing a spectacular introduction to a multi-layered and captivating character living in a world whose layers match her own." —SFF World

"[With Blood Upon the Sand] is an ambitious sequel, larger in scope than its predecessor – and it pulls it off magnificently. It's intelligent, well drawn and a lot of fun to read – and so I'd recommend it wholeheartedly." —Sci-fi and Fantasy Reviews
DAW, 9780756414627, 528pp.
Publication Date: July 14, 2020
About the Author
Bradley P. Beaulieu is the author of the Lays of Anuskaya Trilogy and The Song of the Shattered Sands series, beginning with the acclaimed Twelve Kings in Sharakhai. His writing has garnered many accolades, including a Gemmell Morningstar Award nomination and the L. Ron Hubbard Writers of the Future Award.