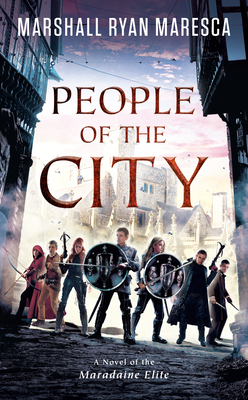 People of the City (Maradaine Elite #3) (Mass Market)
DAW, 9780756415006, 368pp.
Publication Date: October 27, 2020
* Individual store prices may vary.
Description
The third and final novel in the Maradaine Elite series blends fast-paced high fantasy and political intrigue, bringing together the threads of the interconnected Maradaine novels.

Corruption and conspiracy have infected the city of Maradaine, from the top levels of power to the very depths beneath the city. Dayne Heldrin and Jerinne Fendall, elite warriors of the Tarian Order, have no idea how close they truly are to the center of the city's dark secrets. But when they learn that children are going missing, they know they must investigate further--no matter the cost.

They are soon joined by others, each with their own reasons for seeking the children. Veranix Calbert, the vigilante known as the Thorn, thinks his enemies are responsible for the missing children. Inspectors Minox Welling and Satrine Rainey fear the disappearing children are tied to corruption in the city Constabulary. Asti and Verci Rynax hope to protect the kids from their streets, one of whom barely escaped the kidnappers. And a mysterious young cloistress seeks to lead each of them deeper down into the depths of enigmas beneath the city, to the dark, unholy cult known as the Brotherhood, and the horrors that are growing within it.

The only hope Maradaine might have against the impending darkness is if these champions can work together to protect all the people of the city....
About the Author
Marshall Ryan Maresca is a fantasy and science-fiction writer, author of the Maradaine Saga: four braided series set amid the bustling streets and crime-ridden districts of the exotic city called Maradaine, which includes The Thorn of Dentonhill, A Murder of Mages, The Holver Alley Crew and The Way of the Shield. He is also the author of the upcoming Velocity of Revolution, and has been a playwright, an actor, a delivery driver, and an amateur chef.
Praise For People of the City (Maradaine Elite #3)…
Praise for the Maradaine Elite series

"A series of violent rebel threats on the elections and the twisty machinations of both the Tarian Order and the Open Hand ensure enough action and intrigue for any fan of fantasy adventure. Series readers will delight in returning to the rich universe of Maradaine." —Publishers Weekly

"The Way of the Shield is at its best when they're running around in the streets getting themselves beaten up by political subversives and the constabulary, and dealing with the consequences of their decisions. Maresca writes solid action scenes and has an eye for the believably absurd." —Locus

"In one fast-paced, funny, highly readable novel after another, Maresca continues to build out every nook and alleyway of Maradaine, which is fast becoming one of the most richly detailed settings in fantasy." —Barnes & Noble Sci-fi and Fantasy Blog

"It's a story about morality, about sacrifice, about what people want from life. It's a fun story–there's quips, swordfights, chases through the streets. It's a compelling, convincing work of fantasy, and a worthy addition to the rich tapestry that is the works of Maradaine." —Sci-Fi and Fantasy Reviews

"I love the complexity of Marshall Ryan Maresca's worldbuilding as the vast conspiracy underlying all the inner workings of Maradaine is emerging through the intertwining pieces coming together. It's nothing short of brilliant!" —Fresh Fiction

"Highly recommend this series to anyone who loves high fantasy, political intrigue, magic, fantastic world building, and characters who you can root for." —Gizmo's Reviews