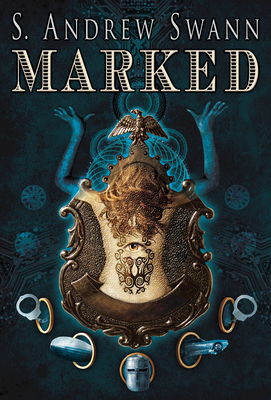 Marked (Paperback)
DAW, 9780756415020, 336pp.
Publication Date: January 15, 2019
Other Editions of This Title:
Mass Market (1/28/2020)
* Individual store prices may vary.
Description
This dark portal fantasy introduces Detective Dana Rohan, an officer who solves crimes using the Mark that allows her to travel to alternate pasts and futures.

Detective Dana Rohan has an excellent arrest and conviction rate. But even her partner doesn't know the real reason why.

All her life Dana has borne a Mark of unknown origin that she's kept secret. A Mark that allows her to walk into alternate pasts and futures. A Mark that allows her to go back and see any crime as it's being committed. But the life she's carefully built around this secret ability begins to crumble when she's assaulted by a ragged old man. He babbles an incoherent warning that "the Shadows are coming," right before he is killed by an armored monstrosity out of another century. The armored attacker vanishes, leaving the old man to die in Dana's arms, and she realizes that he bears the same Mark she does.

Soon Dana finds herself hunted by Shadows coming from out of Chaos. She must flee through a host of alternate worlds as she finds out the true meaning of the Mark on her skin, and why someone wants to kill her for it.
About the Author
S. Andrew Swann, also known as S.A. Swiniarski, has published more than twenty novels over the past eighteen years, which include science fiction, fantasy, and horror. He has a background in mechanical engineering. His latest series is his epic space opera, the Apotheosis trilogy, and his humorous fantasy series, the Dragon Princess novels.
Praise For Marked…
Praise for Marked

"Swann's frenetic pacing is perfectly in sync with the bizarre, dark, and occasionally wild series of worlds that Dana and her companions are thrust into. The Shadows are not mindless shamblers, and Swann even manages to eventually evoke some sympathy for them. As deadly serious as the dangers are, the story is still an entertaining, occasionally raucous romp.... Recommended for all fantasy readers." —Publishers Weekly

"Marked explores a fascinating concept: the possibility that endless realities are merely a step away." —Reviews and Robots

"Marked, by author S. Andrew Swann, is a genre-bending action and adventure free-for-all." —Gizmo's Reviews

"Thoroughly impressed by this book, and highly recommend it to anyone familiar with the urban or high fantasy genres. The story will cleverly subvert the tropes you expect it to follow, and I bet that by the end, you'll be wishing that the sequel was here already, just like I was." —SFRevu

"A great book. I've never read any stories with the premise.... A mix between Doctor Who and the Invisible Library series, with a dash of that old tv show Sliders mixed in as well." —Slapdash + Sundry