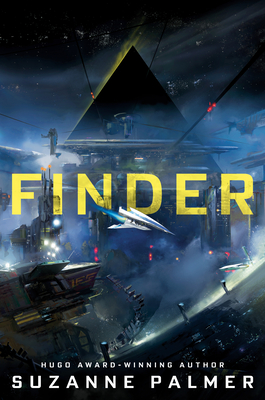 Finder (The Finder Chronicles #1)
Hardcover

* Individual store prices may vary.
Other Editions of This Title:
Digital Audiobook (4/1/2019)
Mass Market (3/31/2020)
MP3 CD (4/2/2019)
Compact Disc (4/2/2019)
Compact Disc (4/2/2019)
Description
From Hugo Award-winning debut author Suzanne Palmer comes an action-packed sci-fi caper starring Fergus Ferguson, interstellar repo man and professional finder
 
Fergus Ferguson has been called a lot of names: thief, con artist, repo man. He prefers the term finder. 
 
His latest job should be simple. Find the spacecraft Venetia's Sword and steal it back from Arum Gilger, ex-nobleman turned power-hungry trade boss. He'll slip in, decode the ship's compromised AI security, and get out of town, Sword in hand.

Fergus locates both Gilger and the ship in the farthest corner of human-inhabited space, a backwater deep space colony called Cernee. But Fergus' arrival at the colony is anything but simple. A cable car explosion launches Cernee into civil war, and Fergus must ally with Gilger's enemies to navigate a field of space mines and a small army of hostile mercenaries. What was supposed to be a routine job evolves into negotiating a power struggle between factions. Even worse, Fergus has become increasingly—and inconveniently—invested in the lives of the locals.
 
It doesn't help that a dangerous alien species Fergus thought mythical prove unsettlingly real, and their ominous triangle ships keep following him around. 
 
Foolhardy. Eccentric. Reckless. Whatever he's called, Fergus will need all the help he can get to take back the Sword and maybe save Cernee from destruction in the process.
Praise For Finder (The Finder Chronicles #1)…
"Wicked, fast-paced, and fun. This is a total romp, and I loved it." —Elizabeth Bear, Hugo Award-winning author of Ancestral Night

"Fergus Ferguson makes an excellent lead in this fast-paced hard-sf repo adventure set in space opera's sweeping scale and balanced on the heart of one very finely wrought character. Suzanne Palmer's writing is delightful." —Hugo-, Nebula-, and World-fantasy finalist Fran Wilde, author of the award-winning Bone Universe trilogy

"Finder is a raucous good time! Suzanne Palmer's Fergus Ferguson is charming, imperfect, always in trouble, and a most resourceful rogue. I can't wait for his next adventure. Characterization at its finest. Firecracker dialogue." —W. Michael Gear, New York Times-bestselling author of Outpost

"Finder proves hard SF, done brilliantly, is passionate, powerful, and brimming with humanity. Be it daily life or war in zero g, realistic communities in space or making us laugh at what clever beings we humans are, Suzanne Palmer nails it. I cannot wait for more. Highly recommended." —Julie E. Czerneda, author of Search Image

"Finder is a breathless ride." —Jacey Bedford, author of Empire of Dust

"A breakneck-paced and action-packed science-fiction adventure featuring an endearing con artist whose current mission to retrieve a stolen spaceship ignites a war.... A nonstop SF thrill ride until the very last page." —Kirkus

"Palmer makes short-distance space travel feel as comfortable as riding a bicycle, and concludes this entertaining caper with a clever resolution and a hint of intrigue. Fans of space adventure will find this a fine example of the form." —Publishers Weekly

"This will please anyone who embraces outer-space yarns." —Library Journal

"A fun, fast-moving jaunt into the zippier, zanier side of space opera." —B&N Sci-Fi & Fantasy Blog

"If you're looking for a fun, little jaunt into a believable backwater with lots of intrigue, fun, and unsettling reminders of how fragile we all can be, this is one book that manages to encapsulate that mixture quite well." —Fanbase Press

Accolades for Palmer's short fiction include:
Hugo Award winner for Best Novelette
Asimov's Readers' Award winner
Analog AnLab Award winner
Theodore Sturgeon Memorial Award finalist
Eugie Foster Memorial Award finalist
Locus Recommended Reading List
Interzone Readers' Poll #1 Best Short Story

"Well told and suspenseful." —Locus
 
"A wonderfully enjoyable read!" —Quick Sip Reviews
 
"Marvelous. [Palmer] has a real gift for description." —Black Gate
 
"Warm and funny and endearing." —SFF Reviews
DAW, 9780756415105, 400pp.
Publication Date: April 2, 2019
About the Author
Suzanne Palmer is an award-winning and acclaimed writer of science fiction. In 2018, she won a Hugo Award for Best Novelette for "The Secret Life of Bots". Her short fiction has won readers' awards for Asimov's, Analog, and Interzone magazines, and has been included in the Locus Recommended Reading List. Her work has also been features in numerous anthologies, and she has twice been a finalist for the Theodore Sturgeon Memorial Award and once for the Eugie M. Foster Memorial Award. Palmer has a Fine Arts degree from the University of Massachusetts at Amherst, where as a student she was president and head librarian of the UMass Science Fiction Society. She currently lives in western Massachusetts and is a Linux and database system administrator at Smith College. You can find her online at zanzjan.net and on Twitter at @zanzjan.