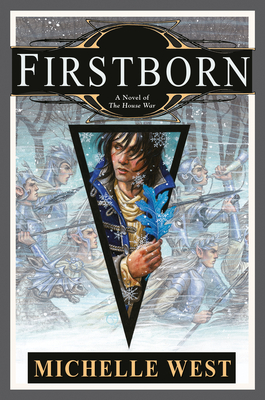 Firstborn (House War #7)
Hardcover

* Individual store prices may vary.
Other Editions of This Title:
Mass Market (2/25/2020)
MP3 CD (4/16/2019)
Description
The seventh book in the epic fantasy House War series returns to a beloved world of magic and political intrigue, where new threats are stirring.

Jewel ATerafin has never wanted to be a power. What she truly wants, she built in the streets of the poorer holdings. To protect what she built, to protect what she values above all else, she has accepted that power is necessary.

But with power comes responsibility.

Jewel has forced herself to do what would have once been unthinkable: She has surrendered her den-kin, Carver, to the wilderness, because she must if she is to have any hope of saving the rest of her family, and the city in which they dwell.

But she cannot leave him with nothing. Into his hands, she has placed the single, blue leaf that came from the wilderness and the dreaming combined. She doesn't know what it does or what it was meant to do—but it is the most powerful item on her person, and it is the only thing she can leave him.
   
That leaf, however, was created to serve a purpose that Jewel does not understand. Nor does Carver, who now possesses it. With Ellerson by his side, Carver intends to traverse the wild Winter in an attempt to reach home—and the people who are waiting for him.
   
There are those who do understand the significance of Carver's gift, and the disaster that will prevail if it remains in his hands. But time is of the essence. These lands are not unclaimed, and the Lord of these lands is waking from his ancient slumber.
   
Nor is the Lord the only threat. Firstborn, demons, and wild elementals are swirling around two mortal men in a storm that threatens to end the only chance the city of Averalaan has of surviving what is to follow.
Praise For Firstborn (House War #7)…
Praise for The House War novels:
 
"Richly and superbly detailed. Her characters live and sing." —Examiner 
 
"Lush, richly intricate…Jay is charismatic, deeply compelling…. The story sucked me in and didn't spit me out till the end…. Some say Michelle West has been propelled into the ranks of George R. R. Martin and Robin Hobb—I say she's been there all along." —Night Owl Reviews 
 
"Fans of award-winning Toronto fantasy writer Michelle West will be delighted with this return to the vivid and detailed universe of the Sacred Hunt and the Sun Sword series…. In a richly woven world, and with a cast of characters that ranges from traumatized street kids to the wealthy heads of the most prominent houses in Averalaan, West pulls no punches as she hooks readers in with her bold and descriptive narrative." —Quill & Quire 
 
"This is a compelling story with riveting and finely wrought characters that will keep you up well into the night. This story will go down as one of the best novels in its genre, propelling West into the ranks of Robin Hobb and George R.R. Martin. It's simply a great read, don't miss it." —The Maine Edge 
 
"West is growing into a superb storyteller as demonstrated by this best effort to date with a fully realized world populated by a diverse range of nicely developed characters and a compelling storyline that hooks readers in from the start." —Monsters and Critics 
 
"I am glad I read it. It is out of the ordinary for a fantasy tale, and is a Hamlet rather than a Henry V." —Grasping for the Wind 
 
"Michelle West tells a wonderful tale…. I really like the way West draws the charac­ters, making them, even the children, memorable. A lot of untold riches are implied here, and I'm waiting eagerly for sequels." —Philadelphia Center City Weekly Press 
 
"The power and majesty of the series is in the characters, although the world itself is extraordinary.... The House War series is timeless and clearly takes it place at the top of its genre. It is a full-bodied piece of work that is satisfying, intriguing and thought-provoking." —Bitten by Books
DAW, 9780756415525, 592pp.
Publication Date: February 19, 2019
About the Author
Michelle West is the author of three interconnected series: The Sacred Hunt duology, the six-volume Sun Sword series, and The House War novels. She has published numerous short stories, as well as fantasy novels, under her maiden name, Michelle Sagara. She was a two-time nominee for the Campbell Award. She works part-time at BAKKA Books, one of Toronto's larger bookstores, and writes a column for The Magazine of Fantasy & Science Fiction. She can contacted via her website, michellesagara.com.
or
Not Currently Available for Direct Purchase