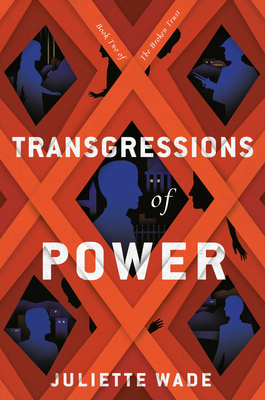 Transgressions of Power (The Broken Trust #2)
Hardcover

* Individual store prices may vary.
Other Editions of This Title:
Paperback (2/8/2022)
MP3 CD (2/23/2021)
Compact Disc (2/23/2021)
Description
The second book of The Broken Trust continues an epic struggle for power, kindled in the hearts of two brothers, as it spreads to crack the foundations of their underground society.

To marry into the most powerful family in Varin is to step into a trap. Della has spent thirteen years under the scrutiny of Pelismara's political elites, supporting Tagaret in a dangerous pretense as his brother Nekantor's closest ally. In secret, however, they've planned to escape, and to break down the restrictions of Varin's caste society. When Nekantor offers to send them to Selimna, the city where their caste experiments can be carried out, how can they not accept the opportunity?

But ever since Nekantor seized power as the Eminence Herin's Heir, he's wanted to keep power in the family, and that means his eye is on the children--especially their thirteen-year-old brother Adon. In their absence, Nekantor begins to execute his own long-schemed plan, and soon Della realizes they've unwittingly become a part of it.

How far does Nekantor's influence spread? How much will he seek to control? And how can she save Adon from falling into his snare?
Praise For Transgressions of Power (The Broken Trust #2)…
Praise for Transgressions of Power

"The first book in this series was awesome, but Transgressions of Power is even more breathless, more intense, more packed with emotion. This is sociological sci-fi filled with genuine heart." —Beth Cato, author of Breath of Earth

"Wade expands Varin from the claustrophobic confines of the deteriorating elite Grobal caste to the brilliant and perilous planetary surface, to other cities and other levels of society. Beloved characters from the first book are joined by a cast of fascinating new figures with minds and destinies of their own." —Deborah J. Ross, author of The Seven-Petaled Shield

"With an enthralling, grab you by the throat plot, a charismatic—and mysterious—cast of characters, and a fabulously original setting full of secrets, Transgressions of Power is everything I'd hoped it would be and more. Juliette Wade's Broken Trust series just keeps getting better. Don't miss this!" —Julie E. Czerneda, author of the Web Shifter's Library series

"Wade's world is one you can taste, smell, hear, and touch. It's been a long time since I read science fiction this immersive, and the intricate political clockwork of the beginning builds up to a satisfying avalanche at the conclusion." —Marie Brennan, author of the Memoirs of Lady Trent novels

Praise for Mazes of Power

"The impressively winding plot, layered worldbuilding, and psychologically acute characterizations are sure to hold readers' attention. Wade is an author to watch." —Publishers Weekly (starred review)

"Delicious political intrigue and really cool world building." —Ann Leckie, Hugo and Nebula award-winning author of Ancillary Justice

"A vivid, thrilling journey through a wonderfully realized and wonderfully complex world; and a fascinating look at power and its exercise across different strata of an intricate society." —Aliette de Bodard, Nebula award-winning author of The Tea Master and the Detective

"A twisty ride through family drama and tangled politics, Mazes of Power carries readers into a world of love and treachery, and doesn't let them go." —Laura Anne Gilman, author of The Cold Eye

"A deliciously complex, glittering work of family intrigue and life-or-death politics in a world that's utterly alien, with characters who are all-too human. I loved it." —Kelly Robson, Hugo award-winning author of Gods, Monsters, and the Lucky Peach

"[Mazes of Power] is a deeply political novel, that treats with the complexities of caste as much as with the arrogance of ambition; and it steps as lightly through its major themes of political and mental disorder as it does through its plotlines of romance and revolution. This book is a delight to read, and a constant surprise, offering consequences as unexpected to the reader as they are to the characters." —Chaz Brenchley, Lambda award-winning author of Bitter Waters

"Mazes of Power showcases Wade's ability to take the reader deep inside a fully alien culture on the grandest scale yet—even if the 'aliens' are fully human." —Stanley Schmidt, author of Night Ride and Sunrise
DAW, 9780756415761, 480pp.
Publication Date: February 23, 2021
About the Author
Juliette Wade never outgrew of the habit of asking "why" about everything. This path led her to study foreign languages and to complete degrees in both anthropology and linguistics. Combining these with a fascination for worldbuilding and psychology, she creates multifaceted speculative fiction that holds a mirror to our own society.
or
Not Currently Available for Direct Purchase