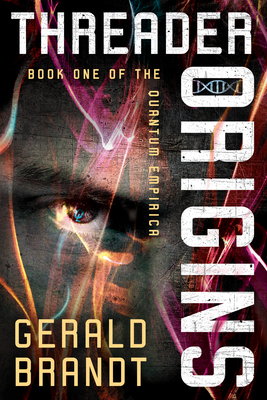 Threader Origins (Quantum Empirica #1)
Paperback

* Individual store prices may vary.
Other Editions of This Title:
Digital Audiobook (1/11/2021)
Hardcover (1/12/2021)
Description
Now in paperback, this first book of a new sci-fi series introduces an alternate earth where powerful Threads have the power to alter reality as we know it.

Pulled from his world by an experiment gone wrong, Darwin Lloyd is one of the few that can see the Threads—quantum strings that can be manipulated to change or control reality. On an alternate Earth ravaged by war, Darwin is torn between the Qabal and SafeHaven, his only goal to find a way back home and stop the same fate from happening in his time line.
 
Threads—thought of as a gift from the machine he helped his father create—and Threaders are both loved and hated, treated as gods by some and as criminals by others. Out of his element, Darwin must learn how to control the Threads and possibly join the hated Qabal to find the path back to his dad.
 
But Thread use comes at a price. Follow the possibilities and probabilities too far and the human mind shatters, leaving the Threader a mindless, drooling husk. Yet the Thread's pull is almost irresistible, and a constant battle for those that can see them.
 
In this strange new world, Darwin discovers what he could never find on his own: friends, family, love, a mother he lost years before, and a younger sister he never had.
Praise For Threader Origins (Quantum Empirica #1)…
Praise for Threader Origins

"It's rare to get 'thought-provoking' and 'page-turner' in the same novel, but Brandt has done it, and then some!" —Jason M. Hough, New York Times bestselling author of The Darwin Elevator

"Threader Origins is a compelling, thought-provoking look at the potential in each of us, and society itself, that never falters or flinches. Breathtakingly original and memorable, I can't wait to see where Brandt goes with this new series. A must read!" —Julie E. Czerneda, author of the Web Shifter's Library series

"Gerald Brandt knocks it out of the park again! Quantum physics, parallel worlds, and a rip-roaring plot—what more could you want? In some reality, this book will win major awards — not just because all quantum possibilities do occur but because it bloody well deserves to." —Robert J. Sawyer, Hugo Award-winning author of Hominids

"The unlikely hero and innovative use of physics as a basis for magiclike abilities results in a memorable adventure. Readers will look forward to the next installment." —Publishers Weekly


Praise for the San Angeles series

"Gerald Brandt's The Courier is a stunning debut: a fast-paced cyberpunky story of a future Los Angeles with a kick-ass heroine you'll never forget. A terrific book from a distinctive new voice; I'm looking forward to many more books from this author." —Robert J. Sawyer, Hugo Award-winning author of Quantum Night

"Brandt's supercharged sequel to The Courier continues the cyberpunk fun of the San Angeles series.... Brandt fleshes out an all-too-possible future of crushing poverty and corporate control, and the complex heroine who will lead us through to a better future." —Tor.com

"This gritty near-future science fiction thriller...offers intriguing possibilities." —Publishers Weekly
DAW, 9780756416386, 384pp.
Publication Date: November 2, 2021
About the Author
Gerald Brandt is the author of the cyberpunk San Angeles sci-fi trilogy: The Courier, The Operative, and The Rebel. The first of the trilogy was a finalist for the Aurora Award for Best Novel. His short story "Storm" appeared in the 2013 Prix Aurora Award-winning anthology Blood & Water. By day, he's an IT professional and coding guru. In his limited spare time, he enjoys riding his motorcycle, rock climbing, camping, and spending time with his family.
or
Not Currently Available for Direct Purchase