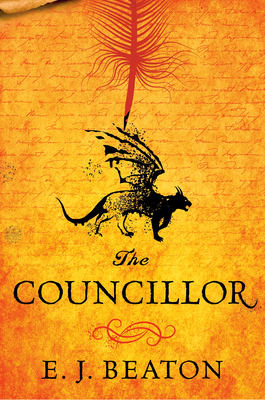 The Councillor
Hardcover

* Individual store prices may vary.
Other Editions of This Title:
Compact Disc (3/2/2021)
MP3 CD (3/2/2021)
Description
This Machiavellian fantasy follows a scholar's quest to choose the next ruler of her nation amidst lies, conspiracy, and assassination

When the death of Iron Queen Sarelin Brey fractures the realm of Elira, Lysande Prior, the palace scholar and the queen's closest friend, is appointed Councillor. Publically, Lysande must choose the next monarch from amongst the city-rulers vying for the throne. Privately, she seeks to discover which ruler murdered the queen, suspecting the use of magic.
 
Resourceful, analytical, and quiet, Lysande appears to embody the motto she was raised with: everything in its place. Yet while she hides her drug addiction from her new associates, she cannot hide her growing interest in power. She becomes locked in a game of strategy with the city-rulers – especially the erudite prince Luca Fontaine, who seems to shift between ally and rival.
 
Further from home, an old enemy is stirring: the magic-wielding White Queen is on the move again, and her alliance with a traitor among the royal milieu poses a danger not just to the peace of the realm, but to the survival of everything that Lysande cares about.
 
In a world where the low-born keep their heads down, Lysande must learn to fight an enemy who wears many guises… even as she wages her own battle between ambition and restraint.
Praise For The Councillor…
Praise for The Councillor

"A sharp and insightful look at power and privilege in a magical world, and what happens when people who've historically had neither find themselves in possession of both." —Anna Stephens, author of the Godblind trilogy

"A gripping tale of intrigue and politics and power, set in a beautifully-drawn world of shifting alliances and morally grey characters. Intelligent, nuanced, and compelling." —H. G. Parry, author of The Unlikely Escape of Uriah Heep

"A tense intrigue of unknown loyalties, political machinations, and secret magic, The Councillor explores ambition, addiction, and the consequences of power. A powerful and intelligent debut from a writer to watch." —Sam Hawke, author of City of Lies

"The Councillor is elegant, intricate, and utterly engaging! A beautifully written and intelligent debut novel." —Rowenna Miller, author of the Unraveled Kingdom series

"The Councillor is a wonderfully assured debut. A smartly-crafted tale of Machiavellian politics, privilege and power, driven by a fantastically nuanced, flawed protagonist and wrapped in sharp, lyrical prose. There's a lot to love about The Councillor." —John Gwynne, author of the Of Blood and Bone series

"Sharp and scintillating, The Councillor is high-intrigue fantasy with complex politics, fascinating characters, and gorgeous prose. Beaton has crafted an intricate story and executed it with the elegance of a well-placed blade." —Cass Morris, author of Give Way to Night

"E.J. Beaton brings a poet's eye to politics. Her deft language lays bare the exquisite intimacies of human connection, from the brutal—yet seductive—exercise of power over another, to the moments of tenderness and vulnerability between lovers. An intelligent fantasy of the highest calibre." —Shelley Parker-Chan, author of She Who Became the Sun

"Beaton's worldbuilding, character evolutions, and morally gray decisions make this story incredibly nuanced and smart. A skilled debut of politics, secrets, and magic that will grab readers from the start." —Library Journal (starred review)

"The Councillor is a smartly-crafted political debut imbued with elemental magic, monsters, chimera, intense tournament, and intrigues." —Petrik Leo, Novel Notions

"The Councillor is an exceptional book.... The world and culture depicted by Beaton is breathtaking as it drew me in and I never wanted to leave." —The Nerd Daily
DAW, 9780756416997, 448pp.
Publication Date: March 2, 2021
About the Author
E. J. Beaton is the author of the fantasy novel The Councillor, to be published by DAW Books on March 2, 2021. She has previously published a poetry collection, Unbroken Circle (Melbourne Poets Union), and has been shortlisted for the ACU Prize for Poetry and the Ada Cambridge Poetry Prize. She studied literature and writing at university, and her PhD thesis included analysis of Machiavellian politics in Shakespearean drama and fantasy literature. She lives in Melbourne, Australia.