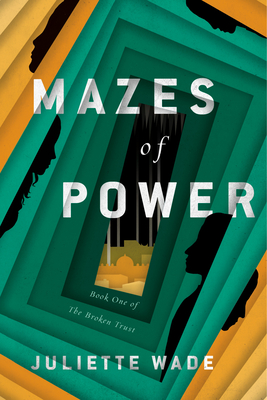 Mazes of Power (The Broken Trust #1)
Paperback

* Individual store prices may vary.
Other Editions of This Title:
Digital Audiobook (2/3/2020)
Compact Disc (2/4/2020)
Hardcover (2/4/2020)
MP3 CD (2/4/2020)
Description
Now in trade paperback, this debut work of sociological science fiction follows a deadly battle for succession, where brother is pitted against brother in a singular chance to win power and influence for their family.

The cavern city of Pelismara has stood for a thousand years. The Great Families of the nobility cling to the myths of their golden age while the city's technology wanes.

When a fever strikes, and the Eminence dies, seventeen-year-old Tagaret is pushed to represent his Family in the competition for Heir to the Throne. To win would give him the power to rescue his mother from his abusive father, and marry the girl he loves.

But the struggle for power distorts everything in this highly stratified society, and the fever is still loose among the inbred, susceptible nobles. Tagaret's sociopathic younger brother, Nekantor, is obsessed with their family's success. Nekantor is willing to exploit Tagaret, his mother, and her new servant Aloran to defeat their opponents.

Can he be stopped? Should he be stopped? And will they recognize themselves after the struggle has changed them?
Praise For Mazes of Power (The Broken Trust #1)…
Praise for Mazes of Power

"The impressively winding plot, layered worldbuilding, and psychologically acute characterizations are sure to hold readers' attention. Wade is an author to watch." —Publishers Weekly (starred review)

"Delicious political intrigue and really cool world building." —Ann Leckie, Hugo and Nebula award-winning author of Ancillary Justice

"A vivid, thrilling journey through a wonderfully realized and wonderfully complex world; and a fascinating look at power and its exercise across different strata of an intricate society." —Aliette de Bodard, Nebula award-winning author of The Tea Master and the Detective

"A twisty ride through family drama and tangled politics, Mazes of Power carries readers into a world of love and treachery, and doesn't let them go." —Laura Anne Gilman, author of The Cold Eye

"A deliciously complex, glittering work of family intrigue and life-or-death politics in a world that's utterly alien, with characters who are all-too human. I loved it." —Kelly Robson, Hugo award-winning author of Gods, Monsters, and the Lucky Peach

"Mazes of Power is a gasp-inducing political Hunger Games packed with intrigue, assassins, and stunning social dynamics. I didn't want it to end!" —Beth Cato, author of Breath of Earth

"Mazes of Power is a taut, tense, wonderfully claustrophobic entry into a world and society brimming with surprises and secrets. Loved it and cannot wait for more!" —Julie E. Czerneda, author of The Web Shifter's Library series

"[Mazes of Power] is a deeply political novel, that treats with the complexities of caste as much as with the arrogance of ambition; and it steps as lightly through its major themes of political and mental disorder as it does through its plotlines of romance and revolution. This book is a delight to read, and a constant surprise, offering consequences as unexpected to the reader as they are to the characters." —Chaz Brenchley, Lambda award-winning author of Bitter Waters

"Mazes of Power showcases Wade's ability to take the reader deep inside a fully alien culture on the grandest scale yet—even if the 'aliens' are fully human." —Stanley Schmidt, author of Night Ride and Sunrise

"Mazes of Power is one of those novels that redefines the genre. The storyline draws you in immediately, with characters that range from sympathetic to charming to downright terrifying in their insanity, but despite the initial, fairly conventional coming-of-age plot, this book dives fearlessly into darker questions.... With compassion and keen insight, not to mention the skill of a gifted storyteller, Wade has created Varin, a world without a sun, a society crumbling under the weight of its own survival, and characters desperate for power and for love…a world that will leave readers clamoring for more." —Deborah J. Ross, author of The Seven-Petaled Shield
DAW, 9780756417130, 416pp.
Publication Date: January 26, 2021
About the Author
Juliette Wade's habit of asking "why" about everything has led her to explore the world both above and below the ground. She has lived in Japan and France, and holds degrees in linguistics and anthropology. The author of many published short stories, she lives in the San Francisco Bay Area with her Aussie husband and her two sons, who support and inspire her.
or
Not Currently Available for Direct Purchase