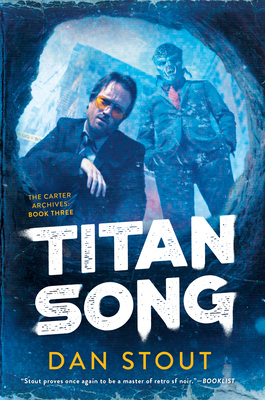 Titan Song (The Carter Archives #3)
Hardcover

* Individual store prices may vary.
Other Editions of This Title:
Mass Market (5/3/2022)
Description
The third book in the acclaimed Carter Archives noir fantasy series returns to the gritty town of Titanshade, where danger lurks around every corner.

Forbidden magic, murder... and disco. Carter's day keeps getting worse.

With the return of spring, new life floods into Titanshade. The sun climbs higher and stays longer, the economy is ascendant, and ever more newcomers arrive to be part of the city's rebirth. Even pop culture has taken notice, with a high-profile concert only days away. When a band member's murder threatens to delay the show, the diva star performer demands that the famous Detective Carter work the case. But Carter has secrets of his own, and his investigation unearths more victims and dark secrets, triggering a spiral of deceit, paranoia, and nightmarish magical transformations.

As conspiracies are exposed, Carter is sucked even deeper into the machinations of the rich, the powerful, and the venerated. Soon the very foundations of the city threaten to collapse and Carter's own freedom is on the line as he navigates between old enemies and fragile new alliances while racing to learn the true cause of this horrific series of deaths.
Praise For Titan Song (The Carter Archives #3)…
Praise for Titanshade

"Take a little Mickey Spillane, some Dashiell Hammett, a bit of Raymond Chandler, and mix it with Phillip K. Dick's Blade Runner; add a taste of C. J. Box, and Craig Johnson, and you've got a masterpiece of a first novel. I hate to call any novel a work of genius, but Stout's Titanshade taps all the right keys." —W. Michael Gear, New York Times bestselling author of the Donovan novels

"Debut author Stout combines a pitch-perfect noir tone and a richly detailed world full of human, amphibian, and less-identifiable characters in this instantly gripping fantastical mystery.... Stout handles this complex mystery with ease, invoking the best elements of classic noir mysteries, while fearlessly making this world, with its retro style and multilayered mythology, all his own." —Publishers Weekly (starred)

"Titanshade is entirely unique: it's a gritty noir murder mystery on an alien world with multiple species, a strange form of sorcery, a powerful religion, and large-scale political intrigue. And it's set in the 1970s, with pay phones, 8-track tapes, racial tensions, and arguments about disco music. What's amazing is how good it is at being all of these: the genuinely compelling mystery lives in a hugely original sf world and an immersive historical milieu." —ALA Booklist (starred)

"Dan Stout's debut novel is flawless. Titanshade is set in an original, gritty fantasy world, like enough to ours to take you by the throat as the detective noir plot roars along, yet filled with intriguing other beings and moments of remarkable magic. Highly recommended." —Julie E. Czerneda, author of The Gossamer Mage

"If you like rollicking detective stories with some action-adventure and alien culture to overlay the mystery, you should give this one a look. I can almost guarantee it won't be what you expect." —SFRevu

"All in all, the book grows on the reader, slowly at first, but then with the speed of a rabid kudzu vine egged on by supervillainess Poison Ivy. By the end of the book Titanshade satisfies well enough to make you start over at the beginning to see what you missed." —New York Journal of Books

"Titanshade was a wonderful blend of magical realism, police procedural, and thriller." —Genre Minx

"This is a solid debut, giving us a fascinating new world, some fun characters who feel real, and a story which, I guarantee will keep you turning pages into the wee hours." —Sci-Fi and Fantasy Reviews
DAW, 9780756417468, 384pp.
Publication Date: April 6, 2021
About the Author
Dan Stout writes about fever dreams and half-glimpsed shapes in the shadows. His fiction draws on travels throughout Europe, Asia, and the Pacific Rim as well as an employment history spanning everything from subpoena server to assistant well driller. Dan's stories have appeared in publications such as The Saturday Evening Post, Nature, and Intergalactic Medicine Show.