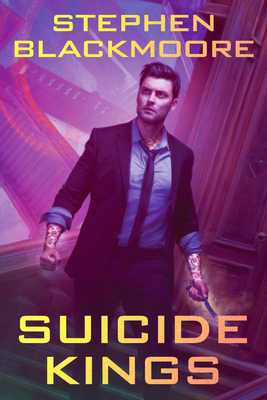 Suicide Kings (Eric Carter #7)
Paperback

* Individual store prices may vary.
Description
The seventh book of this dark urban fantasy series follows necromancer Eric Carter through a world of vengeful gods and goddesses, mysterious murders, and restless ghosts.

Family is murder.

When Eric Carter helps a friend with a deadly ritual that could determine the fate of the most powerful mage family in Los Angeles he steps into the middle of centuries-long feuds with people who make the Borgias look like the Brady Bunch.

Eric's just fine with the murder, soul eaters, and death magic. He's just having trouble adjusting to being brought back from the grave.

If he's not careful, somebody's going to put him right back.

Praise For Suicide Kings (Eric Carter #7)…
Praise for the Eric Carter series

"Blackmoore can't write these books fast enough to suit me. Broken Souls is hyper-caffeinated, turbo-bloody, face-stomping fun. This is the L.A.-noir urban fantasy you've been looking for." —Kevin Hearne, New York Times bestselling author of The Iron Druid Chronicles

"Demons and dark magic and gods of death: what's not to like? Blackmoore's hard-charging prose hits like a bullet fired from a cursed gun.... Fast becoming my favorite urban fantasy series, Broken Souls is a welcome addition to the necromancer chronicles of Eric Carter. Read this book. Read it now." —Chuck Wendig, author of Wanderers

"Eric Carter's adventures are bleak, witty, and as twisty as a fire-blasted madrone, told in prose as sharp as a razor. Blackmoore is the rising star of pitch-black paranormal noir. A must-read series." —Kat Richardson, author of the Greywalker novels

"Broken Souls is a deliciously gritty thrill ride. I can't get enough of Stephen Blackmoore's warped imagination and superb noir sensibilities. This is a must-read for any fan of awesome things." —Jaye Wells, author of the Sabina Kane series

"Carter's wry voice is amusing as ever, but the grief he carries is palpable, adding depth and a sense of desperation to this action-packed adventure. Readers will be eager for more after this thrilling, emotionally fraught installment." —Publishers Weekly (starred)

"Ghost Money is reminiscent of Kevin Hearne's Iron Druid series, pitting a powerful human magic-user against the gods, while use of the Aztec gods calls all the way back to Mercedes Lackey's Diana Tregarde books. Blackmoore's fast pace and no-holds-barred prose give him a unique place in the genre." —Booklist

"Fans will find plenty to enjoy in the long-awaited third outing of necromancer Eric Carter. Blackmoore infuses his increasingly detailed and dangerous urban fantasy landscape with grim yet fascinating characters, and ensures that every step of Carter's epic journey is a perilously fascinating one." —RT Reviews (top pick)

"The entire series toes the line between gritty and dark but with heart. It ramps up the shock value and the tension without ever feeling like you've crossed the line into something uncomfortable and unreadable. Tight prose, memorable characters." —Fantasy Writers' World
DAW, 9780756417635, 224pp.
Publication Date: March 22, 2022
About the Author
Stephen Blackmoore is a writer of crime, horror, and urban fantasy whose work has appeared in the magazines Needle, Plots With Guns, Spinetingler, Thrilling Detective, Shots, and Demolition. He has also written essays on LA politics and crime for the website LAVoice.org and the LA Noir true crime blog.