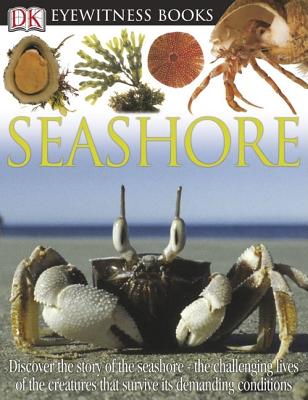 DK Eyewitness Books (Hardcover)
Seashore
DK Children, 9780756607210, 72pp.
Publication Date: August 2, 2004
Other Editions of This Title:
Paperback (7/1/2011)
Paperback (4/1/1992)
* Individual store prices may vary.
Description
Not only are seashores a popular muse for painters, the stretching seashore is also home to millions of creatures, from crabs and sea lions to sea urchins and puffins. Stunning real-life photographs of lobsters, tide pools, fish, seals, seabirds, and more offer a unique "eyewitness" view of life on the seashore. See a starfish on the move, how a sea urchin disguises itself, a sea anemone catch a prawn, the inhabitants of a tide pool, and fish that change color. Learn how a limpet grips the rock, how a crab grows a new leg, how a prawn becomes invisible, how seabirds catch fish, and how a sea otter sleeps at sea. Discover how long seaweed can grow, why hermit crabs live in secondhand shells, which shells bore holes in solid rock, where a puffin lays its eggs, and much, much more.


The most trusted nonfiction series on the market, Eyewitness Books provide an in-depth, comprehensive look at their subjects with a unique integration of words and pictures.
About the Author
Steve Parker is the author of more than 300 titles of children's and adult nonfiction. Before becoming a freelance writer, he worked at the Natural History Museum in London and as a managing editor at DK. His books include Eyewitness: Fish, Eyewitness: Electricity, Eyewitness: Seashore, The Human Body Book, and The Encyclopedia of Sharks.
or
Not Currently Available for Direct Purchase