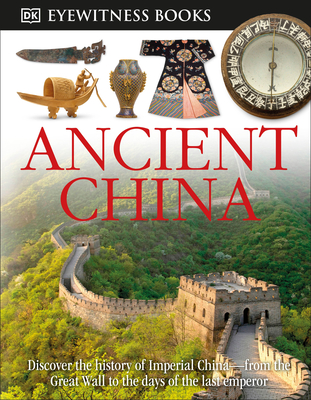 DK Eyewitness Books (Hardcover)
Ancient China: Discover the History of Imperial China from the Great Wall to the Days of the La
DK Children, 9780756613822, 72pp.
Publication Date: September 5, 2005
* Individual store prices may vary.
Description
A spectacular and informative guide to the history of the great Chinese empire and the customs and traditions of its people.

Stunning real-life photographs and lifelike models offer a unique "eyewitness" view of life in imperial China, from its earliest beginnings in the Bronze Age to its final days in the early years of the 20th century. See the stunning bronze work of the ancient Chinese, an early irrigation machine, a set of antique acupuncture needles, the beautiful implements used for Chinese calligraphy. Learn why the First Emperor created the Terracotta Army, what kinds of goods were carried along the Silk Route, who invented paper, how a Chinese house was constructed, why tombs were filled with pottery figures, and what a civil servant's job entailed. Discover why emperors were known as Sons of Heaven, what kinds of weapons were used in early battles, why families worshiped their ancestors, how fishermen used bivas to catch fish, and much, much more.

Eyewitness Books provide an in-depth, comprehensive look at their subjects with a unique integration of words and pictures.
About the Author
Among Arthur Cotterell's historical books are Chariot, The Minoan World, A Dictionary of World Mythology, The Penguin Encyclopedia of Classical Civilizations, The Pimlico Dictionary of Classical Civilizations, The Pimlico Dictionary of Classical Mythologies, and Eyewitness: Ancient China.