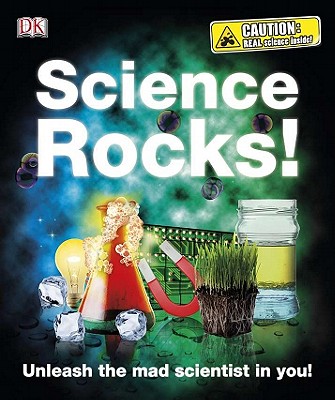 Science Rocks! (Hardcover)
Unleash the Mad Scientist in You!
DK Children, 9780756671983, 144pp.
Publication Date: January 17, 2011
* Individual store prices may vary.
Description
Daring experiments and perplexing puzzles designed to get your brain cells buzzing!
Science Rocks offers youngsters a variety of awe-inspiring ideas for science projects that could enliven their school work and help them score the winning prize at the science fair! Jam-packed with fun activities to fill a few spare minutes, an hour, or a day, this book teaches kids how to use household objects to learn about chemistry, physics, biology, and more. With its vivid illustrations and step-by-step instructions, Science Rocks contains experiments are instantly accessible to all.
About the Author
Robert Winston is a world-renowned scientist who has combined groundbreaking academic work with a flair for communicating science to the general public. The icon of many British TV series, Winston's charisma and zest for adventure have seen him riding roller coasters and freezing in an igloo to help demonstrate science in action.His pioneering work in the field of human fertility has helped dozens of childless couples have "miracle babies" and earned him an international reputation. He is a professor of science and society at Imperial College London and an active researcher in reproductive physiology.