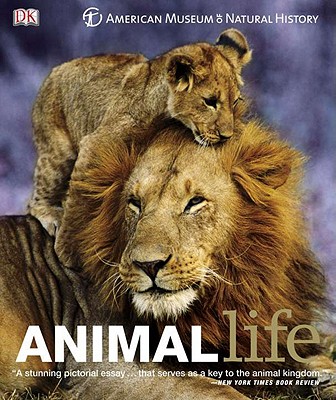 Animal Life (Paperback)
Secrets of the Animal World Revealed
DK, 9780756672218, 512pp.
Publication Date: January 17, 2011
* Individual store prices may vary.
Description
Now in paperback! If you think that watching all the nature programs on television qualifies you as an expert on the subject, think again! Do you really know what makes animals tick? Here are the answers, portrayed with stunning, informative graphics and explained in fascinating, in-depth prose.    

Thematically arranged by behavior trait, Animal Life explores and explains every aspect of animal behavior, including courtship rituals and sex lives, family relationships and defense mechanisms, hunting techniques and feeding habits. Side panels explore some of the field research on animal behavior and explain important conservation issues.

The introductory chapters on the animal kingdom and animal anatomy help explain how different animals have evolved and adapted to their environments, adaptations that may be relevant to particular behaviors. Destined to be the ultimate authority on animal behavior, this book also looks at key behavioral concepts such as how animals learn to behave and the role of instinct in the learning process.
About the Author
Katie Parsons has a PhD in animal behavior and ecology. Dr. Parsons is currently a freelance conservation consultant and science writer. She is the coauthor of Bat Surveys: Good Practice Guidelines and e.Encyclopedia Animal. She is also a contributor to the book Animal Life: Secrets of the Animal World Revealed.Steve Parker is the author of more than 300 titles of children's and adult nonfiction. Before becoming a freelance writer, he worked at the Natural History Museum in London and as a managing editor at DK. His books include Eyewitness: Fish, Eyewitness: Electricity, Eyewitness: Seashore, The Human Body Book, and The Encyclopedia of Sharks.Elizabeth White has narrated several of Ann Coulter's books, including How to Talk to a Liberal (If You Must), The World According to Ann Coulter, and Godless: The Church of Liberalism, as well as Jane Velez-Mitchell's Exposed: The Secret Life of Jodi Arias.Tim Halliday is a professor emeritus of biology at Open University in the UK. Professor Halliday's academic specialty was in the study of newts, toads, and frogs. He researches declining amphibian populations worldwide. He was the amphibian consultant for Animal: The Definitive Visual Guide, which Outside magazine called "the ultimate zoological reference."Doctor Kim Bryan has served as co-author, editor, and consultant for multiple books about science, animals, culture, and technology. She is the author of Puppy Care, and has contributed to dozens of titles including Animal Life by Katie Pearson and Earth by Michael Allaby. She served as an editor for the sustainable lifestyle compendium Do It Yourself: A Guide to Changing Our World. 
or
Not Currently Available for Direct Purchase