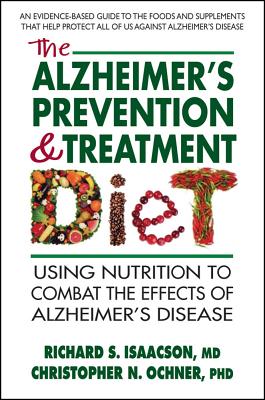 The Alzheimer's Prevention & Treatment Diet
Using Nutrition to Combat the Effects of Alzheimer's Disease
Paperback

* Individual store prices may vary.
Description
​*** OVER 13,000 COPIES SOLD ***
SEEN NATIONWIDE ON ​THE DR. OZ SHOW​
Increasingly, research has shown that diet is one of the greatest weapons we have to protect and defend your rain against Alzheimer's disease (AD). Based on current studies as well as firsthand experience working with thousands of patients--both those who have normal cognitive health and those in the early stages of Alzheimer's--
The Alzheimer's Prevention & Treatment Diet
provides a cutting-edge nutritional program that can help reduce the risk for AD and may slow its progress if it has already developed. This book:
* Presents a nine-week diet plan that gradually introduces brain-healthy foods and dietary strategies.
* Guides you in making smart lifestyle choices, from exercise to hobbies, that strengthen cognitive health. * Explores nutritional supplements that can support the brain and prevent cognitive decline.

* Offers suggestions for managing the special nutritional needs of loved ones with AD.
* Explains the medications used to treat AD--what they are, what they do, and how they should be used. * Provides sample full-day menus, including breakfast, lunch, dinner, and snacks. * Presents lists of recommended foods to make meal planning easy.
Whatever your age, now is the perfect time to start adopting a brain-healthy lifestyle.
The Alzheimer's Prevention and Treatment Diet
guides you in making changes that can significantly enhance your cognitive well-being--now and for a lifetime.
Square One Publishers, 9780757004087, 320pp.
Publication Date: May 15, 2016