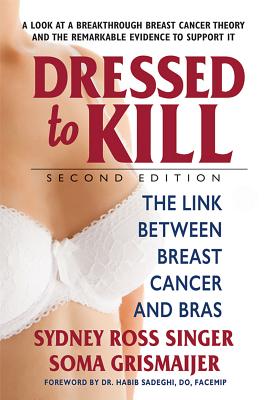 Dressed to Kill--Second Edition
The Link Between Breast Cancer and Bras
Paperback

* Individual store prices may vary.
Description
THE ONLY VERSION OF THIS BOOK NOW IN PRINT & AVAILABLE
In 1995 the first edition of Dressed to Kill: The Link Between Breast Cancer and Bras revealed the disturbing results of a study that showed a notable correlation between the wearing of bras and the incidence of breast cancer. The women studied who wore bras 24 hours a day were 125 times more likely to have breast cancer compared to bra-free women.

Instead of experiencing interest in their research, Sydney Ross Singer and Soma Grismaijer were subjected to a barrage of mercurial assaults. Industry representatives refused to consider the results and dismissed the book out of hand. Mr. Singer even became the target of personal scrutiny. The American Cancer Society took the unusual step of issuing statements of absolute condemnation that were devoid of scientific methodology. The authors had clearly upset the status quo.

But despite the continuous attacks, the evidence would not disappear. The authors were determined to get their message out. They were emboldened by people who contacted them from around the world with messages of support. New studies and research emerged that was consistent with their own research. So much so that it became clear that an updated book was needed.

So vociferous are the opponents of this theory that the publisher received threats if they proceeded with publication of the book. The details of this incident are included in the book's Foreword.

The second edition of Dressed to Kill The Link Between Breast Cancer and Bras (Square One) has been updated to include:
Normal 0 false false false EN-US X-NONE X-NONE
- Additional references to historical awareness of the bra-cancer link

- Advice from British Medical Association that bras are the leading cause of breast pain and
requests for breast reduction surgery

- Numerous additional supportive studies not included in the first edition

- A 1996 follow-up study by the authors in Fiji

- Relevant research from New Zealand and Australia

- Examples of industry resistance to the bra-cancer link since the release of the first edition

- Analysis of opposing research designed to reassure women to wear bras

Breast cysts and cancer are epidemic at this time in history. The healthcare industry says that the cause of 70 percent of all breast cancer is unknown. Dressed to Kill helps solve this mystery, explaining how one of the greatest threats to breast health is something that women do to themselves every day.

This book has its roots in a personal crisis in the authors' lives, when Soma was shocked to find a lump in her breast while pregnant. Looking for clues regarding the cause of the lump led this husband-and-wife medical anthropology team to develop a new theory and to conduct an extensive survey of nearly 5,000 United States women, half of whom had breast cancer, in an attempt to uncover a hidden cause of this devastating disease.

Pioneers in the new field of Applied Medical Anthropology, Singer and Grismaijer explain their unique approach to researching and understanding the cultural causes of disease in easy-to-read language that is accessible to the layperson and professional alike. Dressed to Kill has already had an impact on the healthcare and fashion worlds, moving some doctors to rethink the prevention and treatment of breast disease, and some clothing designers to rethink their products. Controversial for its challenge to established custom and medical dogma, this breakthrough book is already a classic, and in this updated edition, it continues to suggest new ways of dealing with an old and all-too-common women's health issue.
Square One Publishers, 9780757004629, 208pp.
Publication Date: November 1, 2017