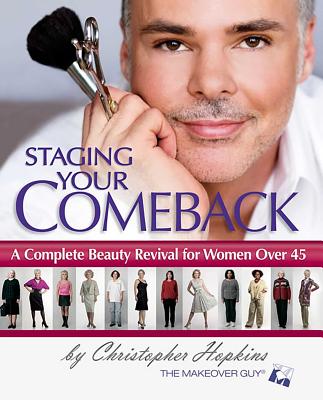 Staging Your Comeback (Paperback)
A Complete Beauty Revival for Women Over 45
Health Communications Inc, 9780757306341, 352pp.
Publication Date: March 3, 2008
* Individual store prices may vary.
Description
Christopher Hopkins first became known as "The Makeover Guy" during his two appearances in Oprah's over-50 makeover shows. Since then, he has dedicated his talents and passion for fashion, makeup, and hair care to this booming audience of women.
In
Staging Your Comeback,
Hopkins champions women over 45, teaching them how to command attention by looking and feeling great. With compassion and brutal honesty, Hopkins tackles and rectifies problems that women face as they age. Hopkins's simple tips and tricks help women create their own self-expression and turnaround common mistakes they make in fashion and hair and skin care. Some topics include:
Gray or nay? Your ideal hair color
Working with over-40 skin
Discover your image profile
Second-act ground rules
Your ideal silhouette
When symmetry goes south
Myths and misconceptions
Long hair in act two: Does it work?
Managing curl
What you need to know about undergarments
Fads, trends, and classics
About the Author
Christopher Hopkins, The Makeover Guy ® is known for his dramatic head-to-toe makeovers and has been seen on countless television shows, including the The Oprah Winfrey Show. Visit Christopher Hopkins at www.themakeoverguy.com
Praise For Staging Your Comeback: A Complete Beauty Revival for Women Over 45…
Christopher shows women how to reveal that amazing inner beauty with techniques you can actually do yourselves." --Mark Montano, Host of TLC's Ten Years Younger

Great information, artfully delivered! Listen to Christopher and you'll look smashing right into your nineties--and feel wonderfully confident the whole way.' --Leah Feldon, Author of Does This Make Me Look Fat? Hopkins, known as The Makeover Guy," explains fashion dos, don'ts and oh-no-she-didn'ts for women in the "second act" of their lives. A quiz helps the reader identify which of six "Image Profiles" suits her tastes ("Casual," "Romantic," "Innovative," etc.); clothes, hair and makeup tips follow accordingly. Hopkins is encouraging and helpful: he does not simply tell women to clean their closets of any unsuitable clothes. He provides a checklist of "what you'll need," a 10-step to-do list and a questionnaire to determine which clothes to keep and which to toss. Benefiting from this book requires a certain amount of dedication—this is no quick-fix beauty mag article. There is even a "revival guide" journal in the back where readers can mark down outfits that worked or didn't work, collect contact information on their personal "beauty team" and keep track of daily, weekly and monthly beauty tasks. ... But his appearances on Oprah, the book's attention to detail and some astounding before-and-after photos attest to Hopkins's expertise. Publishers Weekly (May 2008)

Hopkins, known as the Makeover Guy and owner of reVamp! salonspa in Minneapolis, balances encouragement and blunt honesty in this beauty guide. He stresses the importance of remaining current (not trendy) and age-appropriate, beginning with a chapter on 'Expressing the Authentic You.' Hopkins pays special attention to issues associated with aging, such as wrinkles, thinning and graying hair, and 'Working with a Second-Act Body.' Much of the advice feels old-fashioned, though in a good way. For example, he advocates foundation garments and steers readers away from showing their midriffs or too much cleavage. While Hopkins advises readers on ways to use hair care and makeup to their advantage, he doesn't shy away from cosmetic surgery. There should be demand for his guide, as it follows Charla Krupp's best-selling How Not To Look Old. Recommended for larger public libraries or for those where beauty and fashion titles circulate widely.Library Journal (July 2008)