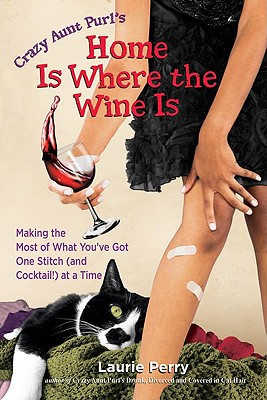 Home Is Where the Wine Is
Paperback

* Individual store prices may vary.
Description
The first horseman of the apocalypse is undoubtedly the Internet personal ad. I am not sure why every single one of them is some variation of: Balding, Paunchy, Twice-Divorced, Unemployed Male Seeks Independently Wealthy Supermodel for No-Strings-Attached fun. Nonsmokers only. She's Back, and edgier than ever. In her debut narrative, Drunk, Divorced, & Covered in Cat Hair, blogger extraordinaire Laurie Perry, aka 'Crazy Aunt Purl, ' gave women everywhere a hilarious yet heartfelt glimpse into her misadventures as a recent divorcee with a herd of cats, a slight wine and Cheetos problem, and scores of unfinished and uneven knitting projects. Now, in her second installment, she's no longer drunk-dialing her ex. She is well on her way to divorce recovery and has embraced a new-found philosophy: To make the best out of the 'extra odd bits'--both in knitting and in life. Discovering how she accomplishes this will make you laugh and cry as she navigates new territory, from dating in a weird, wired world to vacationing solo for the first time. On the cusp of the big four-O, she ventures to the most exotic, foreign locations--the gym, a therapist's office, a self-tanning emporium-- on a search for enlightenment and happiness in-- where else?--downtown Los Angeles. - Island Beach Bag
- Lonely Hearts Personal Massager Cozy
- Wineglass Flip-Flop Coaster
- Quick Knit Date-Night Bag
-Brain Freeze Ice Cream Cozy
- Super-Easy Beret . . . and more Over a dozen knitting recipes included with photos
Hci, 9780757313684, 201pp.
Publication Date: February 1, 2010
or
Not Currently Available for Direct Purchase