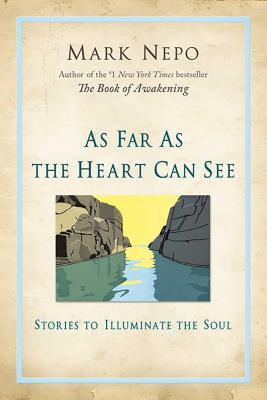 As Far As the Heart Can See
Stories to Illuminate the Soul
Paperback

* Individual store prices may vary.
Other Editions of This Title:
Digital Audiobook (9/5/2011)
Paperback (9/1/2020)
Paperback, Spanish (3/25/2014)
CD-Audio (9/6/2011)
Description
Stories carry the seeds of our humanness. They help us, teach us, heal us, and connect us to what matters. As Far As the Heart Can See is an invitation to be in relationship with deep and life-giving material. Many spiritual gurus present dense metaphysical theses with an intellectual approach for "working" a spiritual path; poet and philosopher Mark Nepo reaches people through their hearts, bringing something fresh and new to the field by stimulating change through reflection of thoughts and feelings. The stories he shares in As Far As the Heart Can See come from many places—from Nepo's personal history to dreams to the myths of our ancestors. Each one is an invitation to awaken an aspect of living in relationship with the sacred.

Following each of the forty-five stories are three forms of an invitation to further the conversation: journal questions, table questions, and meditations. The questions, whether reflected upon in a journal or discussed in deeper conversation with friends or family, are meant to lead the seeker down unimagined paths and back into life; the meditations are meant to ground the learning. These stories and parables about universal concepts and themes offer a poet's sensuality and a philosopher's sensibility to personalizing the journey of the human experience in the world.
Praise For As Far As the Heart Can See: Stories to Illuminate the Soul…
"Mark Nepo is a poet, philosopher, New York Times bestseller (The Book of Awakening), and master of metaphor. In this book he has assembled a collection of soulful stories about 'staying awake and staying close to what is sacred' that go straight to the heart. Drawing from his musings, dreams, or an abiding wisdom tale, he draws readers into the 'marrow of the story' with a rare gift for making the invisible visible. Questions and a meditation conclude each vignette, deepening mindful reflections into the complex interiority of being alive that each story has already loosened. Poignant and poetic, As Far as the Heart Can See illuminates the soul so that we can find our find home. Highly recommended."--Julie Clayton
Tuesday September 20, 2011 As Far as the Heart Can See Mark Nepo Review:
Like most talented authors who finally hit the mainstream with a bestselling book, Mark Nepo (who has been writing for decades) is now finally "on the map" after writing the blockbuster hit, The Book of Awakening. It opened my eyes to his extraordinary gifts as a writer and storyteller, and I was eager to read his latest book, As Far as the Heart Can See. Nepo uses a similar format to his last book–but rather than short entries for each day of the year, this book is comprised of short (spiritual) stories. What differentiates the book from the many short story collections out there is the time and thought he has given to how readers can use each story to inspire deeper insight and awareness. Each story ends with a series of Journal Questions, Table Questions and A Meditation. In my reading of the book, I used the Meditations when I was reading alone and the Table Questions when I was with one or two friends. The stories themselves are an interesting collection of new and re-told stories that read like fables. They are short, dense and rich with meaning. With fall coming, the book seems like a good one to have in the house for the long winter nights when you want to do something more than watch a DVD or read a fictional novel.
Recommended for:
This book will be a wonderful gift for families looking for ways to enliven the dinner table discussion or for couples or groups who want to explore spiritual topics through conversation.Read more:
http://blog.beliefnet.com/aliteraryspirit/2011/09/new-release-as-far-as-the-heart-can-see-by-mark-nepo.html#ixzz1ag2CEGO9
--Posted by Taz Tagore
As Far As the Heart Can See: Stories to Illuminate the Soul
Mark Nepo. HCI, $15.95 trade paper (264p) ISBN 978-0-7573-1571-8. Poet, philosopher, bestselling author (The Book of Awakening), and master of metaphor, Nepo has assembled a collection of soulful stories about 'staying awake and staying close to what is sacred' that go straight to the heart. Each vignette relates a deep musing, dream, or abiding parable that speaks directly to living a life of presence by 'return[ing] us to the hidden wholeness in which all things are connected.' Readers are invited to enter into the 'marrow of story' by working with 'journal questions' for reflection, 'table questions ' for discussion, and meditation, all offered at the conclusion of each chapter, each one a musing that further unearths the complex interiority of being alive. Nepo is a consummate storyteller with a rare gift for making the invisible visible: his poetic conceits 'loosen habits of understanding,' allowing what is meaningful in life to come newly forth. (Sept.) Reviewed on:
08/05/2011
/www.publishersweekly.com/978-0-7573-1571-8".
From Booklist Advanced Review – Uncorrected ProofIssue: July 1, 2011
As Far as the Heart Can See: Stories to Illuminate the Soul.
Nepo, Mark (Author)Sep 2011. 246 p. Health Communications, paperback, $15.95. (9780757315718). 204. Much like his previous work, The Book of Awakening (2000), poet and teacher Nepo takes another turn at helping readers practice the art of being mindful, or, in his words, being present. But rather than give readers another daybook with pithy instructions on mindfulness and compassion, Nepo instead turns to storytelling to provide a framework for internal investigation. There are more than 40 stories, each presented with its own set of journal questions, table questions (to inspire conversation), and meditation points, and readers can choose to work straight through or pick and choose stories based on specific areas of interest. To that end, Nepo has grouped the stories into four sections:'Living on the Spiritual Path,' 'Handling Life's Obstacles,' 'Dealing with Suffering,' and 'Dealing with Personal Growth.' The stories are short and accessible, and Nepo's work as a poet shines through in his writing. Those who prefer their spiritual examinations to be soothing as well as thought provoking will be right at home with this volume.
— Taina Lagodzinski
Mark Nepo appeared on a different list recently—the bestsellers list—thanks to, who else, Oprah Winfrey, who liked an earlier book (The Book of Awakening) by the poet-philosopher. As Far as the Heart Can See: Stories to Illuminate the Soul is Nepo's newest, and the author, a cancer survivor who has been teaching and writing for decades, has always had fans.
—
Publishers Weekly
The Martin Buber quote at the beginning of this book sets the stage for what's to follow. Best-selling author Nepo is telling stories that are meant to trigger insight. They are stories in the tradition of Kabalah; they are parables. They are emotionally charged to provoke discussion (and/or inner dialogue) and propel the reader down the path of self-discovery. For those who are reluctant to take the stories into their own hands, Nepo offers suggestions for exploration at the end of each of the forty-five tales. The stories themselves are brief, perfectly tailored to modern readers' stressful, multi-tasking lives. Nepo's tone is intelligently lyrical, with the rich conciseness of Haiku. This will make a great, feel-good gift item. Consider pairing it with journals and with books of modern poetry, ethnic folk tales, and easily-readable versions of ancient myths. You might want to gather feedback by asking customers to tell you which of the stories was their favorite.
(reviewed by Anna Jedrziewski)
Through his musings, essays and poems he shares his very personal journey with us. He shares his love for life's inherent sacredness and his wiliness to peal away all the scales that we unknowingly cover ourselves with. In doing so he inspires us to do the same, to open to that same sacredness and to explore deeply our experience of how that sacredness manifests in our life. In reading his work one immediately feels the power of our connected humanity. His journey, while uniquely his, parallels our own. His words enliven the beauty within ourselves that he has touched within himself. His ability to dwell deeply with open questions, ones that have the power to take us out of our egoic thinking and into a deeper experience of ourselves, is profound. That coupled with his talent of articulating his inner journey in such tender, concise, and non-pretentious language makes Mark Nepo one of the more influential spiritual narrative writers of our time. . . .
As Far As the Heart Can See,
as like all of Mark's writings, is a treasure that will open many gifts within the reader. It has the power to lead us to the nobility of our own spirit and our own heart. A worthy journey indeed.--David A. Cronin
Health Communications Inc, 9780757315718, 264pp.
Publication Date: September 1, 2011
About the Author
Mark Nepo is a poet and philosopher who has taught in the fields of poetry and spirituality for more than thirty years. In 1987, Mark was diagnosed with a rare form of lymphoma, and as he went through his cancer experience, the lack of books available to guide him through made a deep and lasting impression. As a result, Mark has since devoted himself to the usefulness of daily inner life. He has published twelve books and recorded five CDs, including The Book of Awakening, which was chosen by Oprah Winfrey in 2010 as One of Her Favorite Things. Mark's prolific body of work also includes The Exquisite Risk (Harmony Books, 2005), which Spirituality & Health magazine cited as one of the Best Spiritual Books of 2005, calling it 'one of the best books we've ever read on what it takes to live an authentic life.' The Book of Awakening was a finalist for the 2000 Books for a Better Life Award and was cited by Spirituality & Health magazine as one of the Best Spiritual Books of 2000. As a cancer survivor, Mark devotes his writing and teaching to the journey of inner transformation and the life of relationship. In the past three years alone, Mark has been regularly booked for teaching engagements, seminars, keynotes, and workshops across the United States. Venues include universities, conferences, cancer centers, medical schools, writing programs, spiritual retreat centers, and many others. Mark taught at the State University of New York at Albany for eighteen years. His work has been translated into French, Portuguese, Japanese, and Danish. Today, Mark has extensive engagements in leading spiritual retreats, working with healing and medical communities, and teaching as a poet.To learn more, please visit and .
or
Not Currently Available for Direct Purchase