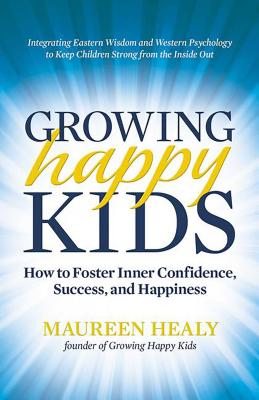 Growing Happy Kids
How to Foster Inner Confidence, Success, and Happiness
Paperback

* Individual store prices may vary.
Other Editions of This Title:
MP3 CD (7/12/2016)
Description
Every parent wants his or her child to be happy and grow into a productive, fulfilled adult . . . and according to parenting expert Maureen Healy, the secret to that success is in providing a foundation of inner confidence. Parents and teachers know that confidence and inner strength are important attributes, but in an era where self-worth is often measured by possessions and attractiveness, most have no idea how to model true inner confidence for their kids or how to help them cultivate it. Real power—or inner confidence—is necessary to overcome obstacles, pursue our unique dreams, and be truly happy.

Maureen Healy, a spiritual teacher with twenty years of experience as a child development expert, literally traveled the world from the Bronx to the base of the Himalayas to learn the connection between inner confidence and lasting happiness, and she shares that wealth of knowledge in Growing Happy Kids. Combining her Buddhist training, her background in child psychology, and the latest scientific research, Maureen shares her revolutionary model that defines inner confidence and cultivates a child's sense of optimism and connection. She explores each part of her system, which she called The Five Building Blocks of Confidence, with the mind of a scientist, yet the softness of a real parent who wants to raise strong, happy children. By using those building blocks—biology, beliefs, emotions, social, and spiritual—parents, teachers, and anyone who touches the life of a child can gain the skills necessary to foster happy kids who are strong, self-reliant, and confident.

"In Growing Happy Kids, Maureen Healy has given us rich and valuable tools to assist us in honoring and supporting our children in building their self-confidence and helping them become happier. It is a MUST read for all parents, educators, and people who care."
—Edwene Gaines, author of The Four Spiritual Laws of Prosperity

"Drawing on her own extensive research and experience, Maureen Healy wisely leads parents and caregivers into the heart of awakening and activating the innate confidence with which every child is born. This is a book that parents will read over and over again."
—Michael Bernard Beckwith, author of Spiritual Liberation: Fulfilling Your Soul's Potential
Praise For Growing Happy Kids: How to Foster Inner Confidence, Success, and Happiness…
"This was a great book that will help you redefine the way in which you look at happiness for your children and the way in which you will envision the building of confidence in your children. I know that as a I am always looking for ways in which to build this confidence and self esteem in my own kids and some days are easier than others, yet I always know how important this parental task is. The author does an amazing job at melding together Eastern and Western lines of thought which is something that I would not have considered in the past, but after reading this makes perfect sense. The book is full of great ideas that are practical and easy to implement and are ones that I would highly recommend any parent consider when working with their own child.The other nice thing about this book was the experience that the author brings to her book, as you can tell throughout the book that her experience has made her well suited to write and share her thoughts on this and as you read further you will be surprised and encouraged to change some of your own parenting ways to encourage the self confidence in your own child on a daily basis!"--Dad of Divas

Growing Happy Kids: How to Foster Inner Confidence, Success, and Happiness Maureen Healy; PHealth Communications Inc., $14.95 trade paper (264p) ISBN 978-0-7573-1612-8 Parents might sometimes wish their children came with an instruction manual; this book could be an answer to their prayers. Healy, a popular writer, speaker, and parenting expert, offers practical and time-tested ideas for instilling children with confidence and happiness. She offers a 5-step process to help children gradually trust more in their own abilities by moving from what she terms 'outer' confidence to 'inner' confidence. These steps include making sure children receive proper nutrition and teaching them appropriate social skills. The author includes 'takeaway' tidbits throughout that will calm even the most frazzled parent. She highlights the importance of families sharing food together while children are encouraged to talk about their daily experiences. Healy also advises parents to guide their children in cultivating a sense of spirituality, something that she distinguishes from organized religious practice. Telling kids stories about great religious figures and how they overcame obstacles can assist them in tapping into their own inner power and confidence, she writes.;New parents and veterans alike will discover useful ways to increase their own confidence about child rearing while allowing their kids' happiness to flourish. (Apr.)

Growing Happy Kids is a compelling and insightful look at what happiness really is. Its message extends way beyond childhood. Maureen, you are absolutely on target. It's inner confidence, not the outer, that carries us through the ups and downs of this experience we call life. --Dr. James Sutton, Psychologist and host of The Changing Behavior Network

Growing Happy Kids Maureen Healy Health Communications, Inc. 3201 S.W. 15th Street Deerfield Beach, FL 33442-8190 9780757316128, $14.95, www.hcibooks.com Happiness is something we seek all our life, and having it in childhood is a good way to start. "Growing Happy Kids: How to Foster Inner Confidence, Success, and Happiness" is a parenting guide from Maureen Healy who advises parents on how to inspire happiness in their children, drawing from philosophy and faith and how to apply these ideals to empower a positive insight in themselves and spread it to their children. "Growing Happy Kids" is a strong pick for any parenting collection, highly recommended.

I wanted to get this book because I am always looking for ideas on the ways I can prepare my children to deal with life, but I learned a lot about how I deal with life in the process. It's a very enlightening read. . . . What really resonated with me about this book is that so much of it was about perspective and self talk. The way we perceive and talk about the world and our lives affects us on so many levels, good or bad. What this book is about is teaching our children to have a deep rooted belief of their own awesomeness, and to let that bloom into real, lasting confidence and a positive worldview. And the thing I love, love, LOVED the most about this book is that after talking about all of this, Healy ends the book with some real life examples of things that we can do with our children to help them reach these goals. She gives us examples of exercises, songs, and mantras (and more!) that we can use in every day life to strengthen the five building blocks. And while Healy is Buddhist and draws heavily from that belief system, these examples are adaptable to whatever belief system or style of parenting suits your family best. In fact, throughout the book she makes an effort to make these ideas available to people across all spiritual traditions… or even those who have a lack thereof. . . . --Leah Silverman/ NetGalley.com
Health Communications Inc, 9780757316128, 264pp.
Publication Date: April 3, 2012
About the Author
Maureen Healy is a child development and parenting expert with twenty years of experience fostering children's holistic health. Her organization, Growing Happy Kids, is committed to planting the seeds of strength and inner peace in children globally. With both experience in private practice and as a public advocate for children, Maureen has helped countless parents, teachers, and children develop the skill of self-confidence and learn how to cause happiness. Unique about Maureen is that she has spent a significant portion of her life studying Eastern and Western psychologies focused upon how to be happier. She has studied in Asia with His Holiness the 14th Dalai Lama, worked with Tibetan children in India, and has continued to be a student of Tibetan Buddhism with her root lama in the United States. Complimenting her eastern mindset, Maureen also delved deeply into the western science of happiness through studying child clinical psychology and working with some of the 'great' thinkers of our time. With such an insightful and rare perspective, Maureen has become a leading voice in the field of parenting and children's emotional health. She writes a popular blog on Psychology Today's website titled 'Creative Development' and has also appeared on ABC's View from the Bay, CW's San Diego Living, and NBC's Philadelphia 10! Her writing has appeared in Spirituality & Health, Tathaastu, and Counselor Magazine as well as notable websites like PBS's This Emotional Life series. She is also a sought after speaker for educational conferences, international events, and parenting programs across the nation. Healy's intuitive insights and scientific understanding of children is grounded in her background. She studied psychology at Clark University in Worcester, Massachusetts where she received a BA and also an MBA focused on human potential. She then studied at Fielding Graduate University based in Santa Barbara, California, where she focused on child clinical psychology and completed two years of doctoral training. Combining these educational experiences with practical understanding, Maureen is committed to being a force for good on behalf of children everywhere. For more information, please visit www.growinghappykids.com.