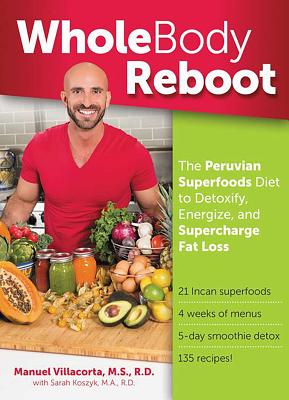 Whole Body Reboot (Paperback)
The Peruvian Superfoods Diet to Detoxify, Energize, and Supercharge Fat Loss
Health Communications Inc, 9780757318214, 284pp.
Publication Date: December 30, 2014
* Individual store prices may vary.
Description
What exactly is the superfood Incan diet, and what makes eating the Peruvian way so beneficial? In his third book, Manuel Villacorta lays out the important elements that make his dieting plan a well-seasoned recipe for long-lasting health.

"Superfood" is not just a buzz-word or a passing vogue; it's the integral component to leading a healthy lifestyle, a word many of us are recognizing by the minute. As these once obscure products find broader distribution and consumers have greater access, superfoods are finding their way into mainstream supermarkets, gradually becoming a staple to the American diet. The benefits of consuming Peruvian superfoods are astonishing: from fighting cancer and reducing inflammation to boosting energy and enhancing memory— these foods have it all. In his Peruvian superfoods diet, Villacorta provides simple yet thorough explanations of weight-loss, anti-aging, and disease-fighting concepts by using an appealing page layout displaying beautiful color photography, easy-to-read bullet points, and sidebars summarizing each health benefit.

What makes Villacorta's book so enticing, aside from his mouth-watering recipes, is that he offers specific meal plans geared towards both men and women looking to lose weight and lead a healthier life. He has also created custom 7-day meal plans for vegans, vegetarians, omnivores, and gluten-free diet preferences. By using the core principles from his first book, Eating Free, Villacorta proves to his readers that they can successfully follow a super-health weight-loss plan, easily gain the skill in cooking from scratch, dine with elegance, and reduce every-day stress.
About the Author
Manuel Villacorta, MS, RD, is an internationally recognized, award-winning registered dietitian-nutritionist with more than 18 years of experience. He is the author of three books, Eating Free, Peruvian Power Foods and Whole Body Reboot: The Peruvian Superfoods Diet. Villacorta is a trusted voice in the health and wellness industry. A national media spokesperson for the Academy of Nutrition and Dietetics from 2010–2013, he is also a health blog contributor for The Huffington Post and an on-air contributor for Univision. His latest contribution was as leading nutrition expert for a series about Superfoods with National Geographic. Villacorta is the owner of MV Nutrition, a San Francisco-based private practice, and the recipient of five "Best Bay Area Nutritionist" awards from the San Francisco Chronicle, ABC7 News and Citysearch. Born and raised in Peru, he lives in San Francisco. He earned his Bachelor of Science in nutrition and physiology metabolism from the University of California, Berkeley, and his Master of Science in nutrition and food science from California State University, San Jose.
Praise For Whole Body Reboot: The Peruvian Superfoods Diet to Detoxify, Energize, and Supercharge Fat Loss…
"Whole Body Reboot introduces you to the delicious, wholesome flavors of the Peruvian traditional diet. Aji, artichokes, avocado, beans, purple potatoes, quinoa are some of the 21 super foods that make up the core of this gorgeous diet—no wonder the people of Peru suffer from lower rates of disease! Take a dive into Manuel's fabulous book to reboot your diet for optimal health and beyond."—Sharon Palmer, RDN, editor Environmental Nutrition, nutrition editor Today's Dietitian, author of Plant-Powered for Life.
or
Not Currently Available for Direct Purchase