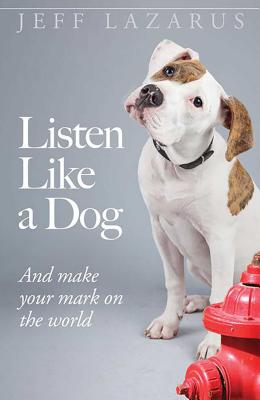 Listen Like a Dog (Paperback)
And Make Your Mark on the World
Health Communications Inc, 9780757318986, 264pp.
Publication Date: April 26, 2016
* Individual store prices may vary.
Description
Have you ever talked to a dog. Not just the "Who's a good boy? Spike's a good boy" stuff, but really talked? About your struggles, your heartaches, your joys—baring your soul to a canine friend? If you have, chances are it made you feel free to say whatever you wanted, without the burden of justifying your position, sounding witty, or telling an entertaining story. Free to take your time, without fear of judgment or recrimination. Even if you can't have a real discussion, when compared to conversations with humans you'd probably admit that dogs are the better communicators—paws down. Why? Because even though they don't speak our language, they really listen.

It's time to take a fresh look at listening and we need go no further than the furry best friend at our feet. Dogs don't interrupt us, finish our sentences, offer advice, try to top our stories, or text us instead of talking to us. Dogs pay extremely close attention to us; they study our facial expressions, our body language, our eye movements, and our voice patterns. Dogs do not just listen with their ears, they listen with their entire being.

True listening can enhance every relationship in one's life, and can transform broken associations and inject new life into business and social interactions. It is the magic ingredient that forges real connections with others. People want good listeners in their inner circle, they want do business with them, they trust them and will share critical information with them. That means the person who masters this skill has enormous advantages, both in business and in his or her personal life. By listening like a dog, readers will find renewed connection and a deeper sense of compassion, companionship and understanding with the people in their lives.
About the Author
Jeff Lazarus has enjoyed a career spanning more than two decades with one of the world's leading pharmaceutical companies. He is a Health Science Consultant, serving as a scientific liaison to physicians, academicians, and health educators. As a five-time recipient of the Vice President's Award, he has earned "Hall of Fame" status. Jeff has a BA in speech communication, with an emphasis in interpersonal and organizational communication, from Cal State University, Long Beach, and an MBA from Pepperdine University. He has taught public speaking at the university level and conducted numerous workshops on listening, presentation skills, and customer engagement. His love for dogs is portrayed in the 2015 release, Dogtology, a whimsical exploration of humankind's fanatical devotion to dogs. Jeff grew up acting in theater, and is an avid music fan who plays guitar. As a major sports enthusiast and knowledgeable fan, he has coached championship-winning youth sports teams in baseball and soccer.
Praise For Listen Like a Dog: And Make Your Mark on the World…
"Listen Like a Dog offers a totally fresh perspective on attaining success in our personal and professional relationships. Jeff Lazarus gives you the tools to get out of your own way and experience the miracles that will come to you when you model the behavior of man's best friend. The witty and wise advice he offers will enable you to become a master communicator in almost any situation. Take the lead from your dog and reap the rewards." —Jack Canfield, co-creator of the Chicken Soup for the Soul series and creator of The Success Principles series

"Chew on this: your dog is your mindfulness guru! You will bow, and say WOW, when you learn how." —Michael J. Gelb, author of How to Think Like Leonardo da Vinci

"There is no doubt that the ability to listen—to really, authentically listen—is one of the most important qualities of an effective leader, top salesperson, good friend, and successful family member. Who in the world, however, would believe that the very best teacher of this vital skill would be . . . our dog? Well, actually, practically anyone and everyone who has ever had a dog! In this terrific book, told through the eyes of a true dog-lover and expert on the topic of listening, we learn how to master the skill applied so naturally by our canine children." —Bob Burg, coauthor of The Go-Giver

"There's a reason so many people have a strong bond with their dog. A dog's full attention invites us to share more of our real selves with them, and opens the way for pure and positive communication—even if it is nonverbal. Jeff Lazarus has given us a roadmap to living a happier and more productive life with this invaluable book. His tongue-in-cheek style will leave you laughing, but ultimately make you realize that your canine companion seriously has much to teach you about how to become a better listener!" —Dr. Marty Becker, 'America's veterinarian' and New York Times bestselling author