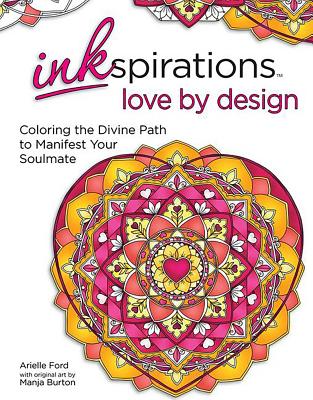 Inkspirations Love by Design (Paperback)
Coloring the Divine Path to Manifest Your Soulmate
Health Communications Inc, 9780757319693, 72pp.
Publication Date: February 7, 2017
* Individual store prices may vary.
Description
Twenty years ago, author Arielle Ford created a system to manifest her soulmate using the timeless principles of the Law of Attraction: techniques, visualizations, rituals, and prayers to prepare her mind, body, spirit, and home for an amazing relationship with a man she had not yet met. Within six months, she was introduced to her beloved, Brian Hilliard—knowing instantly that he was "the one"—and a year later they married. Since then, tens of thousands of men and women around the world have used her "Soulmate Secret' to meet and marry the love of their lives. Now, Arielle's miraculous methods are paired with the romantic artwork of internationally acclaimed artist Manja Burton in this first of its kind transformational coloring book.

Art therapists have long known that making art is a powerful and enjoyable tool for self-exploration and processing emotions. Inkspirations Love by Design contains simple yet specific exercises and information to create the frequency of love in your life. By coloring each page in this step-by-step guide with a clear intention, readers will mindfully and creatively raise their awareness to make their deepest desires for love come to fruition. Finding true love is possible for anyone, at any age, and this beautiful book will lead readers to open their hearts to the art of love.
About the Author
Manja Burton is a freelance artist and illustrator who is the founder of the popular website Hattifant: Toys & Décor That Inspire Mindful Play & Nurture Imagination. Hattifant's products reflect her philosophy that, "The path in life that we follow forms us and we create the path in front of us." She has an MA in educational science, psychology and intercultural business communication. She has volunteered globally for organizations such as Envision, Unicef and Save the Children. She also worked with Turquoise Mountain, an organization in Kabul, Afghanistan, founded at the request of HRH Prince Charles of Wales and former president Hamid Karzai, designed to revive Afghanistan's traditional crafts, and to regenerate Murad Khani, a historic area known for its rich cultural heritage. Manja and her family currently live in Thailand. Arielle Ford (La Jolla, CA) is a love and relationship expert and a leading personality in the personal growth and contemporary spirituality movement. For the past 25 years she has been living, teaching, and promoting consciousness through all forms of media. She is a speaker, a blogger for the Huffington Post, and the producer and host of Evolving Wisdom's Art of Love series. Arielle is a gifted writer and the author of 10 books including the international bestseller, The Soulmate Secret: Manifest the Love of Your Life with the Law of Attraction. Her latest book is Turn Your Mate into Your Soulmate. She has been called 'The Cupid of Consciousness' and 'The Fairy Godmother of Love.' She lives with her husband/soulmate, Brian Hilliard, and their feline friends.