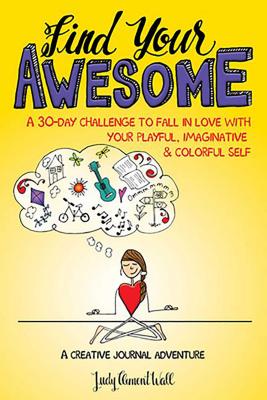 Find Your Awesome
A 30-Day Challenge to Fall in Love with Your Playful, Imaginative & Colorful Self
Paperback

* Individual store prices may vary.
Description
In a perfect world, maybe you wouldn't need a 30-day challenge to find and fall in love with your most playful, imaginative, and colorful self, but we don't live in a perfect world. We live in a fast-paced, high-octane society where feeling lost in the jostling crowd is the norm and finding our own significance is oftentimes the biggest challenge of all. Fearless love champion Judy Clement Wall will guide you through this challenge--to fill your well for 30 days and tap into the miracle that is you! When you learn to love and value yourself, your relationships with everyone else will change, because the person that you bring to the world will be the fullest, truest, best-loved version of yourself.

So step up and take this challenge. Carve out a few minutes each day to fully engage with yourself; reflect, unwind, and have fun! Here's a sneak peek at just some of the prompts:

#2: Be outrageously grateful

#3: Create a life list

#4: Appreciate your body in all its awesomeness

#6: Doodle your perfect t-shirt

#11: Find your life theme

#12: Call BS on "should"

#14: Text love.

Using a stimulating mix of coloring, creative prompts, and other daily activities, master writer, artist and doodler Judy Clement Wall will help you uncover the undeniable awesomeness that is you.
Health Communications Inc, 9780757319754, 120pp.
Publication Date: April 4, 2017
About the Author
Judy Clement Wall is a writer-illustrator who lives and works in the San Francisco Bay Area. Her words have been published in numerous literary journals and websites such as the Huffington Post, Mind Body Green, and The Rumpus. She is an illustrator for HCI Book's popular Inkspirations coloring book series, and her doodly art is set to appear in lots of fun places, like lampshades and wine labels. She has a website – judyclementwall.com - where her mission is to make art, do work, and engage in shenanigans that inspire fearless love, soulful evolution, and wild creativity as a way of life. And if, in the process, epic quantities of cheesecake are consumed, all the better.