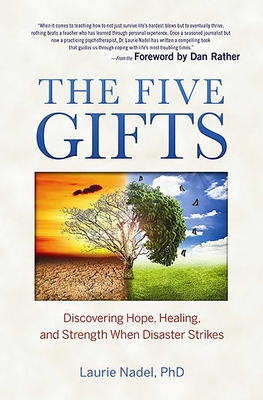 The Five Gifts (Paperback)
Discovering Hope, Healing and Strength When Disaster Strikes
Health Communications Inc, 9780757320446, 264pp.
Publication Date: April 3, 2018
* Individual store prices may vary.
Description

"Once a seasoned journalist but now a distinguished scholar and practicing psychotherapist, Dr. Laurie has immersed herself in the academic study of suffering, in addition to the depth her own life story provides . . . . When it comes to teaching how to get up after being knocked down, how to not just survive life's hardest blows but eventually thrive, nothing beats a teacher who has learned through personal experience. I'll be surprised if you don't find this book highly readable and the information in it unusually accessible and easy to understand, digest, and put to use. Dr. Laurie Nadel touches off many new sunbursts of thought as she guides us through what we need to know about coping with life's most troubling times." --From the Foreword by Dan Rather


WHO ISN'T SCARED WATCHING THE NEWS? And for good reason. With the upsurge of violence and catastrophic incidents on the rise, there's a greater likelihood that you, or someone close to you, will be directly impacted by a traumatic event. The Five Gifts is an emergency "Go-Kit" for your heart and mind, packed with information and insights that can minimize and prevent long-term psycho-spiritual damage from any type of disaster.

Written with first-hand wisdom and compassion, Dr. Laurie Nadel integrates what she has learned from over two decades of working with people living with the aftermath of trauma. As a former journalist turned therapist specializing in acute stress, she shares true stories from forgotten heroes who survived such major news events as: September 11th, 2001, the tsunami in Bali, the Rwandan genocide, a political assassination, and random shootings. Dr. Nadel's own life was impacted by the World Trade Center attacks of September 11 and she lost everything she owned during Hurricane Sandy in 2012.

Although you can never be fully prepared for a disaster, this book provides practical tips and tools to help you build the emotional stamina and clarity needed to cope with acute stress responses and emotional aftershocks. If you're open to receiving the Five Gifts of Humility, Patience, Empathy, Forgiveness, and Growth, Dr. Laurie Nadel will lead you safely through the minefields of trauma to a place of peace, hope, and strength.
About the Author
Laurie Nadel, Ph.D., is an expert on mental health and climate change. She has been interviewed in The New York Times, National Public Radio, Reuters, and CNN.com. A specialist in acute stress, she is a member of a critical incident stress management team working with first responders. After losing her home to Hurricane Sandy, Dr. Laurie ran long-term support groups for survivors. From 2003 to 2005, she directed a program for teenagers whose fathers were killed in the 9/11 World Trade Center attacks and wrote the script for After the Fall: The Rise of a 9/11 Community Center, narrated by Dan Rather. Her four-time bestseller, Sixth Sense: Unlocking Your Ultimate Mind Power, was featured twice on Oprah. A journalist for twenty years, Laurie Nadel reported for Newseek and United Press International in South America, wrote TV news for CBS, ABC News and Reuters Television, and was a religion columnist for The New York Times' Long Island section. The Five Gifts: Discovering Healing, Hope and Strength When Disaster Strikes is her seventh book.
Praise For The Five Gifts: Discovering Hope, Healing and Strength When Disaster Strikes…
"If the reader can't find some strength, courage, hope, peace, and/or healing in this work then they are not paying attention." — Alan Clyne, US Marine Corps (Ret.)

"Thanks to Dr. Laurie for these important first steps into the future that we now face in our wounded world. Her book is a necessary companion to all those who are becoming professionals in service to others instead of self." —Leslie McTyre, UNICEF ambulance driver during the Rwandan genocide

"This book offers immense healing benefits to anyone who has experienced traumatic events. This is a brilliant work by someone who's been there. If you are struggling with the aftermath of trauma, let Dr. Laurie Nadel be your guide." —Larry Dossey, MD

"This is a fantastic book. I always like to quote that 'The problem is not the problem; the problem is how you deal with the problem.' Dr. Nadel guides you through adversities using other cultures' wisdom to transform the 'problem' into a growth opportunity—her last gift. This book is the gift that the American culture needs right now to reassess its values and to reconquer its wisdom. —Dr. G. Clotaire Rapaille, author of The Culture Code

"This is a fine teaching for anyone in this human condition." —Zen Monk Dai-en Friedman